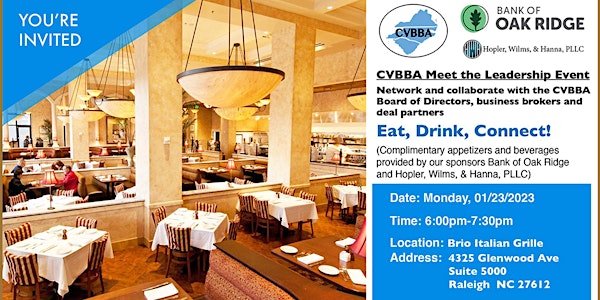 CVBBA Meet the Leadership Event
Carolinas-Virginia Business Brokers Association (CVBBA) cordially invites you to kick-start your year at our "Meet the Leadership" event.
When and where
Location
Brio Italian Gtill 4325 Glenwood Ave #Suite 5000 Raleigh, NC 27612
About this event
Kick-start 2023 at our first CVBBA event this year!
CVBBA President Rupesh Bharad and the CVBBA board invite you to attend our first "Meet the Board" event for 2023. Mingle, network, and collaborate with the esteemed Board of Directors, like-minded business brokers and deal partners.
Complimentary food and drinks provided by our sponsors.
Date: Monday, January 23, 2022
Time: 6:00-7:30 pm
Location: Brio Italian Grill
Address: 4325 Glenwood Ave, Suite 5000, Raleigh, NC 27612
Event registration is by invitation only. Register with your email address to attend this event. Space is limited.
RSVP by January 18th.
Any questions contact Stacey Heller, admin1@cvbba.com ; 646-573-7014.
A BIG THANKS TO OUR SPONSORS!
Bank of Oak Ridge and Andrew Wheeler, Sr. Vice President, SBA Sales Manager, BankofOakRidge.com
ABOUT BANK OF OAK RIDGE: Are you seeking a business loan, SBA loan or line of credit? Bank of Oak Ridge is here to help. As a community bank, we offer certain advantages. All of our loan decisions are made locally, so you'll never have to wait for a "faceless" executive in a distant city to make a decision on your loan.
Whether you want to start a business, need cash flow or are positioning your business for growth, you'll benefit from our personalized approach to business financing.
Andrew Wheeler is a seasoned lending professional focused on building relationships with individuals to assist in achieving their personal and professional financial objectives.
Hopler, Wilms & Hanna, PLLC and Peter A. Hanna, Esq., Attorney & Counselor at Law | Managing Partner, hoplerwilms.com
ABOUT HOPLER, WILMS & HANNA, PLLC : As North Carolina Attorneys, we serve people and businesses all over the State of North Carolina with assistance on a variety of legal issues. It is our policy to treat people with respect and to be generous with our time. You are not a number or a billable hour to us. You are a person first and foremost with real legal issues that affect your life, and as North Carolina licensed attorneys, we treat you like that from the outset of any legal representation to the very end.
Peter Hanna has over a decade of legal experience and practices in the fields of Business and Corporate Law, Contracts, and Unemployment Benefits Law.