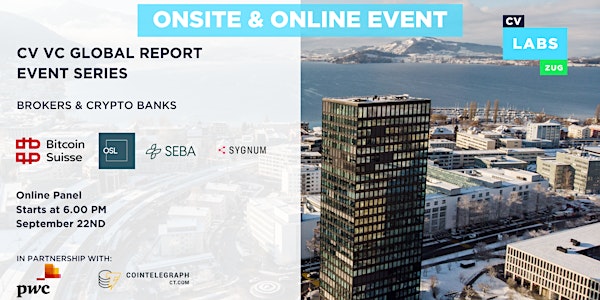 CV VC Global Report - Brokers & Crypto Banks
An in-depth online panel discussion about the "CV VC Global Report" sector: Brokers & Crypto Banks
When and where
Location
CV Labs AG 16 Dammstrasse 6300 Zug Switzerland
About this event
Links for the event:
https://www.youtube.com/watch?v=rMsjtPosIaw&feature=youtu.be
https://twitter.com/i/broadcasts/1MYxNVdgvBVxw
https://www.facebook.com/cointelegraph/posts/3530137443878301
The CV VC Global Report, created by CV VC together with PwC and distributed by Cointelegraph, is a new periodical report which highlights technology trends and showcases top global blockchain companies across the following sectors:
Blockchain in Art
Brokers & Crypto Banks
Crypto Exchanges
Custody Providers
Platforms & Protocols
Token Issuance Companies
Venture Capitalists in Blockchain
This Event will cover the Sector: Brokers & Crypto Banks
A cryptocurrency broker is a firm or an individual that acts as an intermediary between the cryptocurrency markets to facilitate the buying and selling of cryptocurrencies. These brokers team up with banks and crypto exchanges so that they can provide access and liquidity to hundreds of trading pairs with highly competitive bid-ask spreads. Crypto banks are banking institutions that engage in a traditional range of money-related activities such as deposits and withdrawals, lending, saving, and investing across a wider range of markets and instruments. This also describes a standard bank, however, crypto banks have integrated cryptocurrency into these financial functions and gained legality in the eyes of the local financial market supervision.
One can join online or visit us at CV Labs (Zug, Switzerland) where we will stream the panel discussion which is followed by a networking event with industry experts over some drinks.
Agenda:
5.30 pm (GMT+2): Door opening - CV Labs, Zug Switzerland
6.00 pm (GMT+2): Start online panel - link will be provided
7.00 pm (GMT+2): Networking