Description
We ❤️ Ukulele! Mini Festival, the first ukulele festival to be held in the Tri-Cities. The festival will take place on Sunday, June 9, 2019, in the Rehearsal Hall at the Evergreen Cultural Centre, adjacent to the Lafarge Lake – Douglas Skytrain station.

This festival is organized entirely by volunteers, supported by generous sponsors and patrons who care about ukulele, music and culture. Our community-minded presenters, who believe in our cause, are offering their expertise at a special rate to make this festival a success. Admission to this festival is free.

Support our festival by perusing some rare and delightful ukuleles, accessories, gift baskets and more at bargain prices and participate in our Silent Auction:
https://www.32auctions.com/weheartukulele
To preorder festival t-shirts, complete this form:
https://cutiecircle.com/2019/04/26/cutie-circles-we-%e2%9d%a4%ef%b8%8f-ukulele-mini-festival-june-9-evergreen-cultural-centre#t-shirt
To view a list of Cutie Circle Fanware, visit this page:
https://cutiecircle.com/fanware/
Program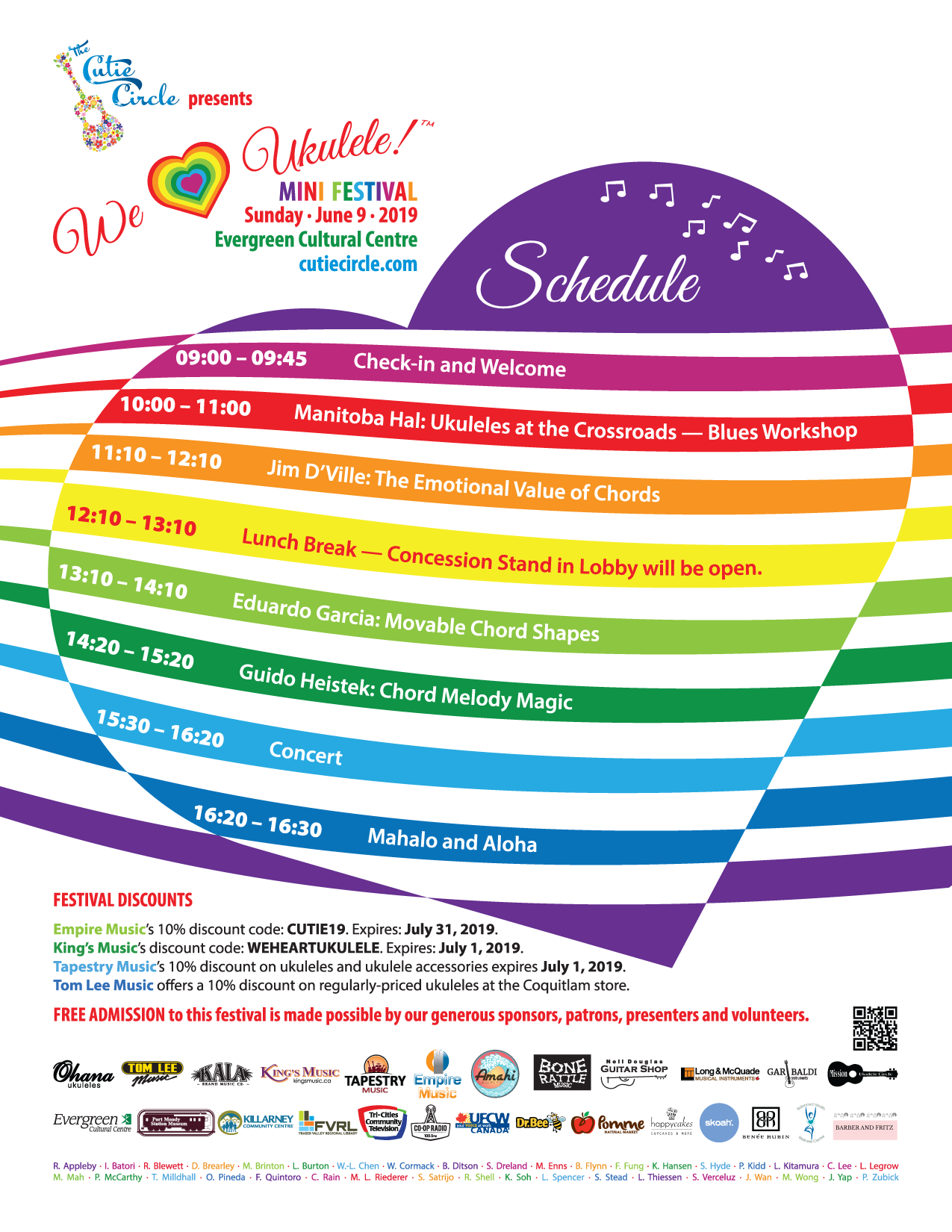 Light refreshments will be provided. Thank you for the tremendous enthusiasm and support!
Four Spectacular Workshops by Four Amazing Presenters
Four excellent musicians and music educators, Manitoba Hal, Jim D'Ville, Eduardo Garcia, and Guido Heistek, will be presenting workshops on popular ukulele topics we have always wanted to master.
Workshop Description
Manitoba Hal: Ukulele at the Crossroads — Blues Workshop
Legend has it that Robert Johnson sold his soul to the devil at a crossroads at midnight in order to learn to play the blues. Fortunately you don't have to do that. Can you play the C chord? How about the F and the G7? If so then you too can learn the blues and no voodoo rituals or selling of your soul is needed! Manitoba Hal will take you through the 12 bar blues progression. Show you a few tricks and tips and have you strumming the blues in no time. Handouts available.
Jim D'Ville: The Emotional Value of Chords
There is a chord associated with each of the seven notes of a major scale. When played in context, each chord evokes a certain emotional response from the listener. Learning these chordal relationships will open your ears to the chord progressions to millions of songs. This is the first step to playing by ear. Knowledge of finger positions for C, dm, em, F, G, am, bdim helpful.
Eduardo Garcia: Movable Chord Shapes
Knowing in advance a few starting chords and willingness to practice the 'barre' after today.
In this workshop, you'll learn how to understand, find and practice any given Major, minor and Seventh chords on the ukulele. Departing from your current playing experience with chords like C, F, Am, Dm, G7 and a few more, we will discover how to find any other given chord! This way, we can unlock all available keys for us to play, or find more comfortable/suitable positions for those chords that might be giving us a hard time (Like E). Don't worry if you don't know those listed chords yet, diagrams will be provided for everyone!
Guido Heistek: Chord Melody Magic
Chord Melody is a solo ukulele technique that allows you to play chords and melody at the same time on one uke. It's like magic! This workshop will give you an inside look at this thrilling technique. First, we will pick the melody and strum the chords of a song. Then, we will learn how the melody and chords can be played together at the same time! As a group, we will create a chord melody arrangement to a famous song like, "Lulu's Back in Town". Some knowledge of tablature will be helpful for this session. The workshop will be taught in G, C, E, A tuning. If you enjoy the solo ukulele stylings of Lyle Ritz or Herb Ohta, this is the workshop for you.
Special Discounts for Friends of Cutie Circle
Empire Music is offering friends of the Cutie Circle special discounts on their website.
Use coupon code: CUTIE19 for a 10% discount between now and July 31, 2019.
King's Music is offering friends of the Cutie Circle special discounts in many categories including tuners, straps, cases, strings, ukuleles, humidifiers, picks, etc.
Use coupon code: WEHEARTUKULELE between now and July 1, 2019.
Tapestry Music offers a 10% discount on ukuleles and ukulele accessories to Cutie Circle members and the We ❤️ Ukulele! Mini Festival attendees up until July 1, 2019. Tapestry Music also offers a rewards program which gives customers 2% back on all merchandise purchases.
Tom Lee Music is offering a 10% discount off regularly-priced ukuleles at the Coquitlam store. Festival attendees will each receive a special ukulele discount coupon.