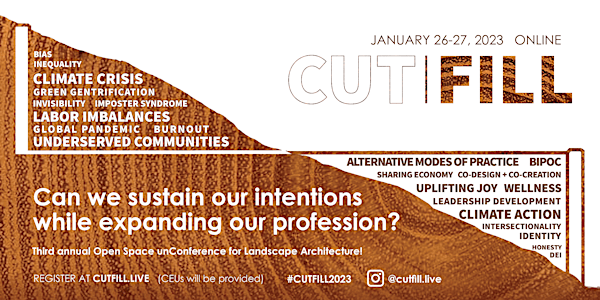 CUT|FILL 2023 - Jan 26 + 27
Third annual Open Space unConference for Landscape Architecture!
Date and time
January 26 · 8am - January 27 · 12:30pm PST
Refund Policy
Contact the organizer to request a refund.
Eventbrite's fee is nonrefundable.
About this event
Here's why you should come...
The field of landscape architecture is in a new transition.
It is time for us to come together again, to share, to listen, and to speak about the issues that matter to each of us.
The theme of this year's event: Can we sustain our intentions while expanding our profession?
What are the collective and individual experiences in this post-pandemic world? The purpose of this unconference is to help us make new connections as we emerge from COVID-19 and as society is shifting dramatically.
Let's rediscover joy in our work.
Let's be intentional with each other, create space for authentic conversations, and model an economy of sharing.
Let's come together to engage as a community, with each other, and with those who are not often included in the conversation.
Let's unlock our own bravery, as we share our stories and experiences from the heart.
Let's be the change we want to see in the field of landscape architecture.
How it works
CUT|FILL, is an online event that is participatory and collaborative. There will be several panel speakers, and then you — the participants — get to propose the topics that will be discussed and to set the agenda for discussion. The agenda will be created live each day by attendees present at the opening of the day. Anyone who wants to host a session that day will announce the topic and choose a space and time. You choose which breakout session to attend. We will have a trained open space facilitator to make sure we are properly organized.
You'll have plenty of chances to exchange ideas and make new professional connections. You can see the growing list of potential topics here put forth by those who have already registered.
Schedule
Thursday, January 26
11:00am - 3:30pm Eastern (8:00am - 12:30pm Pacific) + Post-Event Networking
On Day 1 we will begin with one panel, set our agenda, and converse.
*Panel & Open Space Opening will have closed captioning.
Panelists:
Maura Rockcastle, Principal and Co-Founder, TEN x TEN
Maci Nelson, Podcaster/ Educator/Designer, Host of The Landscape Nerd Podcast
Linda Chamorro, Tierra Media Project, Assistant Professor in Landscape Architecture Environmental & Urban Design at Florida International University
Fauzia Khanani, Founding Principal, Studio Fōr
Friday, January 27
11:00am - 3:30pm Eastern (8:00am - 12:30pm Pacific)
On Day 2 we will begin with one panel, set our agenda, and converse.
*Panel & Open Space Closing will have closed captioning.
Panelists:
Ali Kane, LGBTQ+ Inclusion Educator & Nonprofit Development Professional, ALK Consulting
Jenine Kotob, Senior Director, Career Pathways and EDI Strategies, The American Institute of Architects (AIA)
Tamarah Begay, CEO/Principal-in-Charge, Indigenous Design Studio + Architecture, LLC
Heidi Thomas, Founding Principal, EnviroCollab
What we discuss and what we build will be up to us — each of us.
On January 26 + 27, let's talk with each other, think with each other, and respectfully challenge each other's ideas in order to build upon them.
This is a conference where we will make important steps towards crafting the path forward for our field.
*Ticket prices vary
*We expect 2 CEU's to be available
📧 Share this Invitation
When we bring all voices and perspectives into the room, we create the conditions for powerful change. After you sign up, invite others to have a seat at the table.
Meet new colleagues, friends, and expand your network!
Created and Organized by
Supporting Firm Sponsors
These firms have stepped forward with a financial contribution to help this event succeed.
Promotional Partners
These organizations have worked to extend this invitation and help us welcome everyone into the room.
Join as a Partner or Sponsor
Please contact us to be an Industry Partner Sponsor, Supporting Firm Sponsor, or Promotional Partner. We will add your logo here.
Our team's work is a labor of love and comes from a desire to provide mentorship within and outside the field of landscape architecture. We hope to keep making space for each other and for important conversations.
------------------------------
About CUT|FILL
CUT|FILL is a growing community of landscape architects and designers at the intersection of the built environment and intentional action for social and global impact.
Our Impact: A Participant's Testimony
"Thanks so much for hosting the CUT|FILL Conference. I appreciate the level of organization and effort put into it being productive and useful. The process was really quite smooth and the facilitation was excellent. The effort to flatten out the professional hierarchy so that many voices could be heard, whether, by a 1st-year undergrad student, a young professional, or the founding partner of a major firm was amazing. It was democratic, authentic, and powerful. By focusing the second day on action items, you provided a mechanism for us to actually do something which is obviously the point. But on many other institutional panels, the talk is much bigger than the walk. So thank you for that. And as for the panels-Wow. Blew my stereotypes away. And of course, it was so powerful as a start."
~CUT|FILL Participant
Our Impact: LAF Fellowship for Innovation + Leadership
CUT|FILL was the catalyst that sparked Tierra Media Project, by Linda Chamorro and colleagues she met from the unconference.
▶️ Video: Get a feel for last year's event.
During the panels, an artist recorded the live conversations.