Description
Note: Your ticket includes - and is the same price of - the book!
The Last Bookstore is pleased to present Zack Teperman, illustrator Willie Pena along with editor Max Reisman, and their new book, Cut The Bull$hit, a humorous guide for those looking at getting themselves or product out there into the world.

Join us for this red carpet event that will include a special reading/signing, Q&A session, and fun surprises to celebrate the success of the recently released book!

A quick guide to getting your name or product out there, somewhere! In today's society, there is a lot of complete bullshit going around. From people in power communicating through their asses, to self-labeled marketing "gurus" giving total nonsense advice - it's time to cut the bullshit! Cut The Bull$hit gets right to the point in helping to narrow in on what's important, while at the same time giving you valuable tips and advice to help market yourself, product or business. This is the real world and there is no time to waste reading pages and pages of how-to books, while others are gaining ground on what could be your own success. With funny, easy-to-read poems filled with quick tips and words of action, you will walk away feeling ready to take on what comes next... and most importantly, how to cut the bullshit!
Zack Teperman is the President of ZTPR (www.ztpr.net), a lifestyle, entertainment and technology public relations agency based in Hollywood, California. Originally from Toronto, Canada, Zack studied marketing and broadcasting at Seneca College. Upon graduating, Zack became an on-air radio disc jockey, working across North America from Miami to Yellowknife to Toronto at various radio stations. After leaving the radio industry, Zack focused his expertise on public relations/marketing, helping lead many Canadian, American and international high-profile events and PR campaigns for fortune 500 companies, start-ups, public figures, lifestyle brands, athletes, musicians and celebrity talent. Lastly, Zack is the proud servant to a dog named Corona, and has never actually touched a real sheep.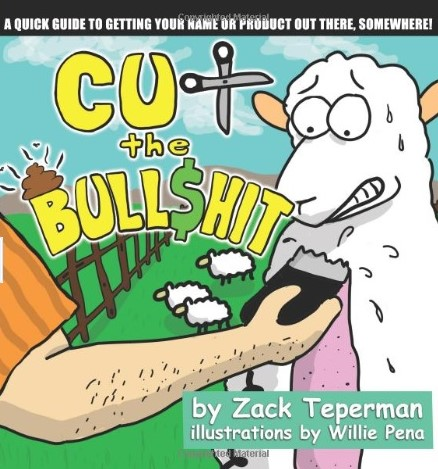 All events are subject to cancellation, so please check back!