Customizing QuickBooks Reports - an In-Depth Webinar

Friday, April 8, 2011 from 11:00 AM to 12:15 PM (EDT)
Event Details
Join Scott Gregory, QuickBooks Expert for this webinar on "Customizing QuickBooks Reports"!
Perfect for:
QuickBooks users who want to learn more about the report customization tools in QuickBooks
QuickBooks users who want to learn how to export reports to Excel
QuickBooks users who want to learn more about QuickBooks add-on software products for customized reporting needs.
"Once again, thanks for your expertise and guidance. You've been most helpful" ....Mary Bondy

The Customizing QuickBooks reports webinar will...
Help you learn more about the various options contained in the "Modify Report" button, including:

The differences between cash and accrual basis reports
How to add subcolumns such as % of income to your Profit and Loss report
How to show reports by month, quarter and other time periods
Using the filters option to pull specific data into a QuickBooks report
Re-sorting columns within reports
Changing fonts, colors and other presentation options
Creating and managing memorized reports
Much, much more...



Show you how to export a report into Excel for further analysis if needed


Introduce you to other advanced report writing tools that work with QuickBooks


Discuss several overlooked but VERY helpful reports for your business


Boost your confidence working with QuickBooks each day!
"When Scott teaches or speaks about business finances and QuickBooks, people get it. Our members have really enjoyed his style of teaching and the ability to make technical concepts easily understood. He has a real gift with this subject matter."
Nikki Matala, Executive Director
Willoughby Area Chamber of Commerce
What to expect during this webinar:
A live demonstration of the QuickBooks report customization tools - no boring slides!
Minimal "accountant-speak". I'll do my best to explain these QuickBooks features in easy-to-understand ways.
A great deal of knowledge in a short period of time.  Doesn't matter if you are using the 2006 or 2011 versions. Knowledge and topics applies to Pro, Premier or Enterprise versions of QuickBooks.
The ability to ask questions using the "chat" feature of my webinar software during the event. I will do my best to get them answered either during the event or afterwards.
Yes! You'll be able to see the webinar if you can't make the live event!
A link will be sent of the webinar recording to everyone that has a paid registration for the event. That way, if you can't make it, you can learn on your own schedule. No worries!
Good news...
There will NOT be 10-15 minutes of time wasted for self-promotion and other marketing like you experience in other webinars. Since there is a fee for the webinar, other than a quick introduction to welcome everyone, we'll be deep into QuickBooks the entire time.
You won't have to leave the office - just tap into your web browser, get connected, and soak up the QuickBooks knowledge you've been looking for. This expert insight will help build your confidence with QuickBooks!
Just purchase your ticket to my webinar using the handy registration section above. If you have any questions, please use the contact link on the page and I'll respond as quickly as possible to them.
Special notes for this webinar:
This webinar is NOT designed for those using Simple Start, Mac or Online editions of QuickBooks.
Internet and phone connection required to attend the webinar
All times shown are Eastern Time.
Organizer
Scott Gregory, QuickBooks Specialist and CFO
Scott has been helping businesses unlock the mysteries of QuickBooks, accounting, inventory, manufacturing/distribution and finance for over 30 years.
His easy-to-understand teaching style has helped hundreds of business owners, entrepreneurs, and bookkeepers gain clarity with QuickBooks, eliminate confusion, and be successful with their favorite software!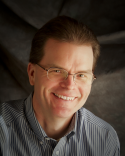 Some of Scott's credentials:
 - Certified QuickBooks ProAdvisor
 - Certified QuickBooks Enterprise ProAdvisor
 - Certified in Integrated Resource Management (CIRM) from the American Production and Inventory Control Society (APICS)
 - QuickBooks instructor in such venues as: Ohio Society of CPAs, Ohio Small Business Development Center, Lakeland Community College, Intuit Town Hall Meetings
 - CPA
 - Worked with QuickBooks software for 19+ years and in business finance and accounting for 30+ years.