Description
CSM Foundations Customer Success Training Workshop
If you're a Customer Success Manager working in Europe and want to boost your skills and earn an official certification in Customer Success Management, then join us for the upcoming CSM Foundations Customer Success Workshop in London, UK.
Attending the CSM Foundations Workshop series, delivered by the team behind SuccessCOACHING, is an excellent way for current, and potential, CSMs to gain a solid, working understanding of the practical aspects of Customer Success Management.
---
"This workshop was absolutely incredible. I'm going to go back to work with a lot more confidence than I had before the workshop and that's going to make me a better Customer Success Manager and a more trusted advisor to my customers. It's going to make me better at my job and make our company more successful." - Kelly Smith, Customer Success Manager, Sigstr
---


Workshop Curriculum
This Customer Success Manager certification workshop covers 12 topics, the full SuccessCOACHING Level 1 Certification curriculum, and is ideally suited for CSMs in individual contributor roles, or with early leadership responsibilities (although we've had everyone from VPs of Customer Success to people who are not yet in a CSM role enjoy our workshops).
The 12 modules covered are:
The Key Components of Customer Success

How To Think Like Your Customer

The Core Principles Of Effective Onboarding

A Proven Success Planning Methodology

How To Deliver Effective Business Reviews

Strategies For Re-Engaging Disengaged Customers

How To Drive Increased Customer Lifetime Value

A Consultative Approach To Customer Success

The Key Disciplines Of Execution

Top Strategies For Handling Escalations

Crucial Tactics For Handling Tricky Customers

The Key Customer Success Metrics Every CSM Should Know
---
"I would completely recommend going through the SuccessCOACHING program. You'll learn exactly what you need to do to build a solid foundation for Customer Success." - Chad Jasmin, VP of Customer Success, Wi-Tronix
---


What Do Others Think?
Great question! Deciding to attend any training event or workshop is a big decision that requires an investment, of both time and money, so it's smart to do your homework and only select a training provider with a track record of success.
To help with your decision, here are some key data points for the CSM Foundations workshop series for you to factor into your thinking:
---
"Your workshop was the most resourceful, practical, time effective, and insightful workshop I've participated in. I've implemented many of your practices and ideas, adapted them to my environment and brought up member engagement." - Michelle, Customer Success Manager, GuildQuality
---
Become A Certified Customer Success Manager
At the end of the CSM Foundations Customer Success training workshop, participants are given the opportunity to earn their Level 1 Customer Success Manager Certification.
Our rigorous CSM certification examination assesses your understanding of the best practices, methods, and strategies that you need to know to be able to deliver the outcomes that customers count on and companies demand.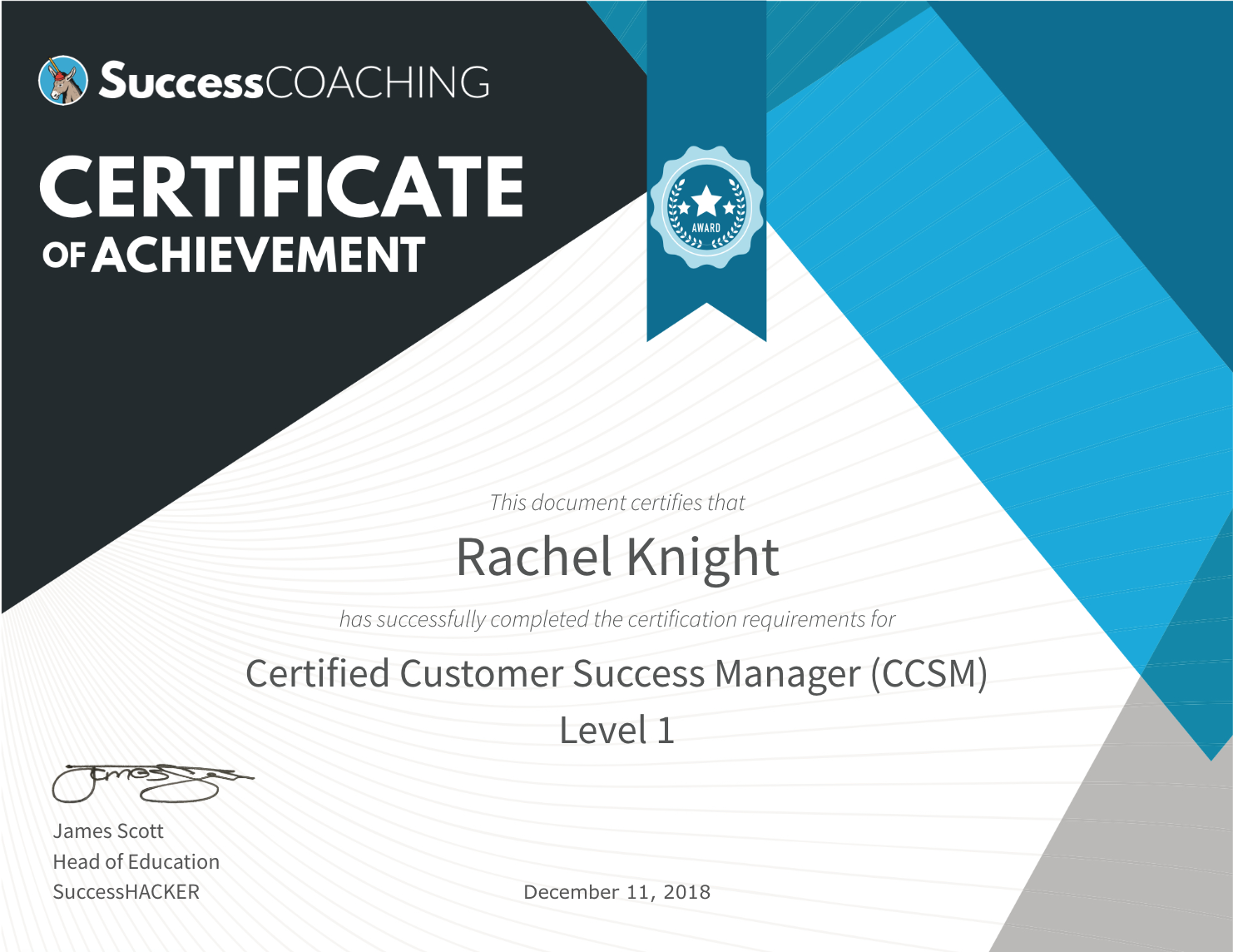 Becoming a great CSM is a lifelong journey, attaining your Level 1 Certification is a significant first step.
Earn your certification and display it as a digital certificate and badge on your LinkedIn profile to demonstrate your professional development and commitment to delivering the best outcome possible for your customers and company.
---
"It not only provides the fundamentals, but it also instills the values and the processes that should be applied daily for delivering customer value and driving customer success." - Juniper Sage, Director of Customer Success, VHT
---
What's The Schedule?
CSM Foundations is an immersive and invaluable learning experience taking place over two action-packed days. Each day will be intense and filled with engaging lessons, exercises, and group discussions.
The workshop curriculum is designed to take you on a step-by-step journey through the essential elements of Customer Success and show you proven strategies that you can use immediately to increase your ability to make your customers successful.
Agenda | Day 1
8:30am - Arrival, light breakfast
9:00am - Workshop Morning Session Starts
12:00pm - Lunch Break
1:00pm - Workshop Afternoon Session Starts
5:00pm - End of Day 1
Agenda | Day 2
8:30am - Arrival, light breakfast
9:00am - Workshop Morning Session Starts
12:00pm - Lunch Break
1:00pm - Workshop Afternoon Session Starts
4:00pm - Certification Exam
5:00pm - Workshop Ends
---
"As a new CSM, I've learned dozens of useful tips and strategies. The content was a great introduction to the CSM world, and I see myself going back to it consistently throughout my CSM career. I would recommend it for anyone in Customer Success looking to further their knowledge." - Annalise Hartley, CSM
---


Meet Your Instructor

Aaron Thompson has dedicated his career to helping companies improve retention rates, increase recurring revenue, and recoup customer acquisition costs. His background developing and executing training and implementation programs, managing technical support staff and then leading Customer Success for B2B SaaS companies, has uniquely positioned him to deliver the best-in-class SuccessHACKER curriculum with real-world experience.
---
SuccessCOACHING: Your Customer Success Training Partner
When it comes to selecting a training partner for Customer Success, you want to learn from someone who has actually done the job and not just talked about it. SuccessCOACHING is your go-to partner for Customer Success training.
We've taught hundreds of CSMs and Customer Success leaders the theory AND the practice of Customer Success.
With 60+ years of combined experience in designing, building and executing Customer Success programs that deliver real results, we can help you to improve your capabilities.
Some of the world's fastest-growing SaaS companies turn to SuccessHACKER and our SuccessCOACHING program for our help. Find out more by visiting: www.successcoaching.co.
---
Just the FAQs
Are team discounts available? Yes, we can offer discounts for groups (from the same company). However, we like to limit the number of people from one company who attend a single workshop so as not to detract from the experience for other attendees. For this reason, we have a limit of 5 people per company per workshop. If you'd like to bring more than 5 people, please drop us a message using the contact form at the top of the page, and we'll discuss options with you.

How many people attend each workshop? Workshop size will vary from city to city, based on time of year and demand. However, in most cases, class size is 25-30 participants, ensuring an optimal learning experience for all.

I'm building a Customer Success team, would this workshop be useful for me? This workshop curriculum is designed to ensure a robust understanding of Customer Success fundamentals, which is an ideal foundation to build a new team upon.

Can I attend for just a single day? Unfortunately not. This program is designed to culminate in certification, and if you have not participated in the full schedule, you will not be able to sit for the exam.

Do you offer private workshops like this? Yes, we do. Please contact us for further details and pricing.
---
More Workshops and Learning Opportunities
If you can't make it to this workshop, then please check our schedule at www.successcoaching.co/workshops to see if there's another city or date that works for you.
If you don't see your favorite city on our schedule, then you're invited to nominate it using our Workshop Location Voting Form. If we get enough votes for a particular city, we'll add it to the schedule!
If online learning is more appealing to you, please explore our online training options at successcoaching.co/courses. Our online courses utilize the same curriculum and are designed to provide the same educational experience, in a more flexible learning format.