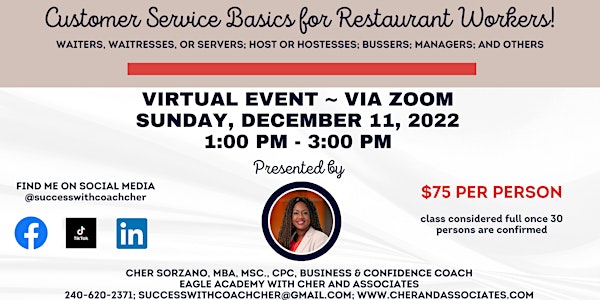 Customer Service Training for Restaurant Workers
If you don't have the essential skills to attract and keep customers, the business will suffer and there is a domino effect which can cost y
About this event
Have you ever gone to a restaurant and had a great experience? Have you ever gone to a restaurant and had a bad experience? Think of the differences and similarities with both experiences?
This training provides tips for phenomenal customer service for restaurant workers. It will highlight five topics:
1. Mindset shifting for top notch service
2. Fostering customer experience
3. Dealing with difficult customers
4. Body language
5. Your service affects your tips and opportunities for promotion
GOALS FOR TRAINING
• Mental attitude
• Verbal and oral communication
• Defusing disgruntled customers
• Providing stellar customer experience
• Team method to customer experience
• Keep the customers coming back and requesting your service
• Increase your tips from customers
SUMMARY
Customer experience is one of the most important aspects of a business. Even if the customer desires your food, they will not come to your establishment if the customer service is poor.
Given this, it is critical that individuals and companies invest in customer experience training. Eagle Academy with Cher and Associates has developed a crash course that can get you to start seeing results. Although the faces and personalities of your customers are different, their fundamental unspoken desire is to have a top notch experience and you can help to create that for them.
Think of it, without the customer, there is no business. Then, please make every effort to treat them well even if it means sharpening your customer service skills.
After this training session, your staff will feel empowered, highly motivated, and engaged to take on new and existing customers.
Eagle Academy with Cher and Associates develops training sessions depending on business needs. We can also customize or add training sessions that suit your organization. Please contact us for assistance.