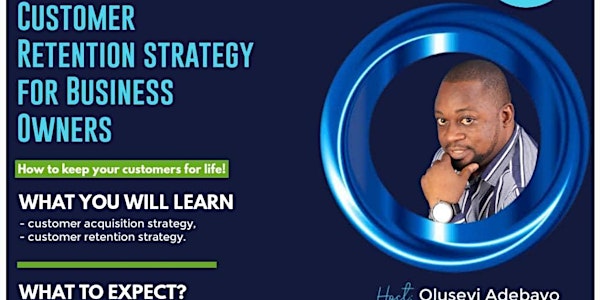 Customer Service Strategy Masterclass for Business Owners
Customer Service Strategy Masterclass for Business Owners
About this event
Do you own a business?
Have you customers been complaining about your poor customer service?
Have you been bleeding hard earned customers?
With the fragile economy, you need to keep and grow your customer base.
Do you know how to build a winning customer retention strategy?
In the world of business, it's either you eat or you are eaten.
What's the way forward?
Every problem has a solution, in this instance, you need the know-how.
Here is the solution.
Join the Customer Retention Strategy Webinar for Business Owners.
What will you learn in this webinar?
You will learn how to keep your customers.
You will learn how to convert your existing customers into brand loyalists and evangelists.
You will learn how to convert your customer service into a unique value proposition of your business.
This is an exclusive offer and very limited spaces are available.
What do you need to do?
Just fill in the required details here and you are in.
You are just the required knowledge away from cashing out by keeping and growing your customer base.
Fee: This event is free but registration is required. Registration link below.