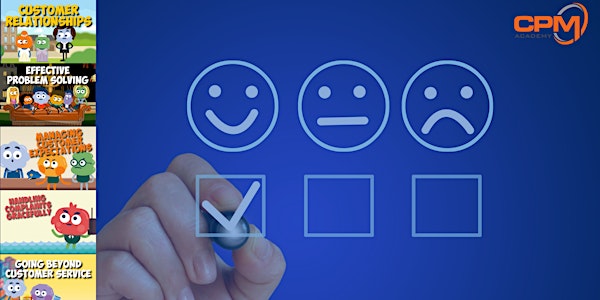 Customer Service Essentials - Bundle of 5 Courses
Online Course. Study at your own pace. Bundle of 5 Courses.
About this event
CPM Academy and TalentLMS bring 100% Online Courses for your professional development. Receive a Certificate of Completion from CPM Academy after each course.
This Bundle includes the following 5 Courses:
Customer Relationships
When you're trying to solve a customer's problem or make a sale, it can be a challenge not to focus on your own agenda. You have quotas to meet and metrics to beat.To build good customer relationships you need to build trust. Building trust requires you to focus solely on the needs and feelings of your customers. This is what ultimately leads to better business success.By the end of this course, you'll be able to:
Read a situation
Read your customers' body language
Begin a conversation confidently
Understand communication etiquette – what can and cannot be said
End a conversation
Deal with difficult situations
Follow up with a customer
Effective Problem Solving
It takes time to learn how to handle delicate situations and think on your feet. These 6 mini-lessons will teach you how to address problem points, read between the lines, and propose meaningful solutions to keep customers satisfied, even when there is no easy solution.
By the end of this course, you'll be able to:
Understand the customer's point of view
Communicate effectively
Manage the balance between company policy and satisfying the customer
Manage the customer's expectations
Find solutions and follow-up on inquiries
Managing Customer Expectations
The most successful companies know how to manage expectations the best they can. Others decide to be vague with dates to avoid false hope. But that brings disorganization. And with disorganization come disgruntled customers and a tarnished name.
This course will teach you how to manage expectations to ensure a seamless and satisfying customer experience.By the end of this course, you'll be able to:
Set achievable goals
Offer promises about deliverables
Align customer and business goals
Handling Complaints Gracefully
It's a well-known fact that everyone loves to give advice, but nobody likes to take it. And this doesn't change because you've got your name on the office door, or you're the employee of the year.But, unhappy employees or disgruntled customers are an expected part of any business. So, it's essential to learn how to handle complaints gracefully. Handling a complaint well demonstrates compassion for your customers and a willingness to improve your company.By the end of this course, you'll be able to:
Understand what a complaint is and why you should listen
React to a complaint appropriately
Assume positive intent
Understand the difference between an apology and sincerity
Resolve problems effectively
Understand the value of compensation
Use complaints to the company's advantage
Going beyond customer service
You can probably think of a time when you've been at the checkout, and the server has done the bare minimum. Checked out your items, ran your cash through the register, smiled and told you to 'have a nice day'.
All fine and dandy, but could they have gone further? If they were practicing great customer service, then yes, they could have tried cross-selling or upselling or used a range of other techniques to make you feel really special.
Now imagine If everyone started offering this same type of excellent customer service. To stand out you'd need to go beyond the same same. This course will show you how.By the end of this course, you'll be able to:
Understand the life cycle of customer service
Use 'out of the box' thinking specific to your brand
Personalize without annoying your customers
Follow top tips from business CEOs on how to go above and beyond
Understand 'High touch' customer service