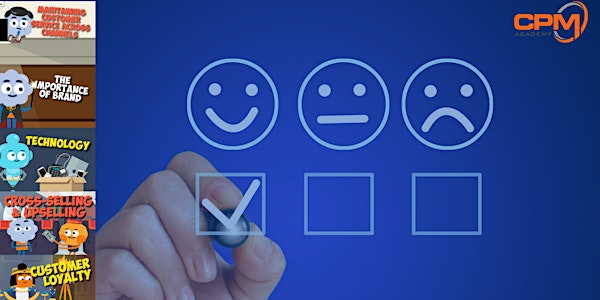 Customer Service Essentials 2 - Bundle of 5 Courses
Online Course. Study at your own pace. Bundle of 5 Courses.
About this event
405 days 7 hours

Mobile eTicket
CPM Academy and TalentLMS bring 100% Online Courses for your professional development. Receive a Certificate of Completion from CPM Academy after each course.
This Bundle includes the following 5 Courses:
Maintaining Customer Service Across Channels
This course clarifies the difference between customer service and customer experience once and for all. Then, it goes on to show how not all customers will enjoy the same type of interaction. So, for truly top-notch customer experience, it's important to learn to adapt to the customer's preferences.
By the end of this course, you'll be able to:
Understand what people expect from good customer experience
Identify the differences between CS and CE
Understand what multiple channels are, and how service should flow between them
Maintain context across channels
Find the balance between online and human interaction
The Importance of Brand
Many businesses forget to tell their employees what their vision and values are, and how these flow into the brand. This lack of training can mean employees second guess and misrepresent the brand causing knock-on issues, often unintended.
Luckily, this course is designed to help you ensure you and your staff know exactly why representing your brand when interacting with customers is so important.
By the end of this course, you'll be able to:
Understand the meaning of a 'brand'
Understand how branding affects the consumer
Identify why it's important to breathe your brand
Identify how lack of brand knowledge creates a bad customer experience
Successfully train staff on your brand
Customer Loyalty
If customers are the glue that holds a business together, then customer retention is integral to keep a company growing and successful. And to maintain your business empire you need to learn how to build trust and create loyal connections.
This course will show you how to do that.
By the end of this course, you'll be able to:
Understand why customer retention is important (for new and existing customers)
Create and maintain loyalty
Understand the effectiveness of word of mouth
Build brand ambassadors
Cross-selling and Up-selling
Both upselling and cross-selling are brilliant ways of making extra sales and increasing profit. But if you look like a 'wheeling and dealing' con artist, it can at best come off as desperate and off-putting. At worst, it will look like you're taking advantage of your customers.
This course will show you how to recognize opportunities and choose appropriate methods of cross-selling or upselling in a way that keeps both the business and the customer happy.
By the end of this course, you'll be able to:
Understand the importance of knowing your product
Identify different methods of up/cross-selling
Decide when to up/cross-sell
Choose the appropriate up/cross-selling method for different channels
Use appropriate pricing systems
Focus on customer service rather than sales
Technology
When technology is used well, though, it can work wonders for a company, adding excitement, reducing workload and improving communication with customers.
But with so much tech out there, how do you choose what to use?
By the end of this course, you'll be able to:
Identify the differences between tangible technology and intangible technology
Understand connected personalization
Know what technology will make your customers' lives easier
Put the customer ahead of data (GDPR)
Outsource technology