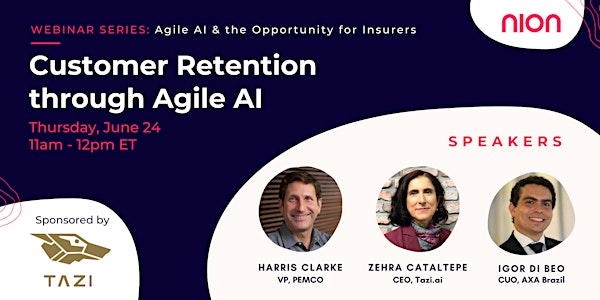 Customer Retention through Agile AI: a winning proposal
Join us on Thursday, June 24th to learn more about the customer retention strategies and the use of Agile AI
About this event
AGENDA
Market Update
Understanding Customers: How do insurers manage customer retention today? How do you identify the root causes for churn and what strategies do you implement to improve? How do we monitor customer behaviour today? Do those results impact product and pricing strategies?
Product and Pricing Strategies: Customer behaviours become essential to determine the product strategies, rather than purely risk-driven approach. How do we manage such a customer driven framework?
Retention Booster | data and AI: How can insurers do to predict customer retention? How model insights are "translated" into preventive actions?How would a AI model work to increase customer retention, while the insurers/brokers have very experienced insurance professionals? How can we implement a framework where customer behaviour and retention predictions determine product and pricing strategies?