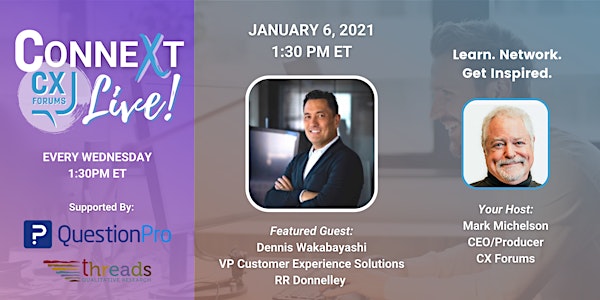 Customer Experience Strategy and Innovation for 2021 (Replay)
Replay: Dennis Wakabayashi, VP Customer Experience Solutions, RR Donnelly and host Mark Michelson fireside chat about CX for 2021
About this event
2020 was the year that changed life and business as we know it. So how will this impact customer experience strategy and innovation initiatives? What are some significant changes with CX and EX that will likely last after the pandemic?
Special guest CX expert Dennis Wakabayashi, VP Customer Experience Solutions, RR Donnelly and host Mark Michelson have an engaging fireside chat on Wednesday, January 6th to kick off the new year.
Come for the Chats, Stay for the Networking!
Immediately following each weekly show's fireside chat, we have two 20-minute rounds of video networking breakouts with everyone who attends. Reserve your place today to network with CX professionals for future shows. Be ready to turn your camera on for the networking breakouts.
Agenda:
1:20 - Meeting room opens for networking via chat
1:30 - Fireside chat begins with Dennis and Mark
1:45 - Q&A
1:48 - Program and recording ends
1:50 - Video Networking Round 1
2:10 - Video Networking Round 2
2:30 - End
Fireside chat will be recorded and sent to everyone following the program.

CX Forums Connext Live is supported by QuestionPro - Advancing Research
Sign up for a free CX trial account @ http://questionpro.com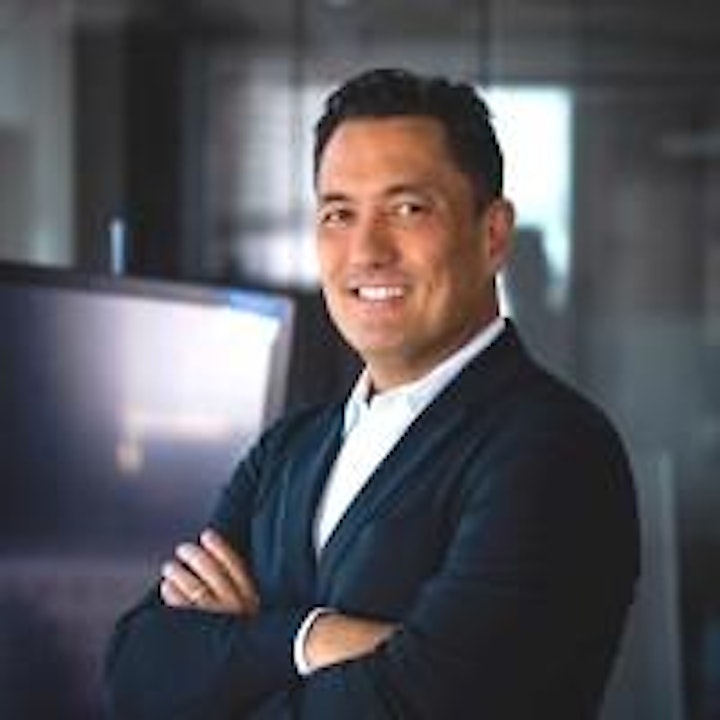 Dennis Wakabayashi, VP Customer Experience Solutions, RR Donnely
Dennis Wakabayashi is a Top 10 CX influencer ranked by Klear.com with over 55,0000 followers, he was named in the Top 40 over 40 Digital Marketers (alongside Gary Vaynerchuck) by Camapaign.us, and is a council member of the Adobe Experience League.
He works as a corporate CX strategist for leading brands around the globe and hosts a weekly Youtube show covering leading CX trends and talking to the world's most influential CX minds.
Dennis is the VP of CX Implementation for RR Donnelley, a global business communications firm specializing in the production, execution and delivery of customer engagement tactics along the entire path to purchase.
Dennis's mission is to unite brands and consumers through empathy, collaboration, and growth.
Connect with Dennis on LinkedIn: https://www.linkedin.com/in/denniswakabayashi/
Follow Dennis on Twitter: https://twitter.com/justintimecx
View Dennis' videos on YouTube: https://www.youtube.com/c/WakabayashiExperience/videos
Mark Michelson, CEO/Producer, CX Forums
"I connect people in the CX community to create new opportunities. I'm curious about everything. My mission in life is to help people understand each other. This mission has paved the way on an incredible journey as an entrepreneur for 36 years in the marketing research industry."
Mark is the co-founder of the Mystery Shopping Professionals Association, and founder of the Mobile Marketing Research Association. He is the principal of Threads Marketing Research and CEO of CX Forums.
"I've been fortunate to have traveled to 70+ countries where I've met many interesting and talented friends. I'm very curious about everything and passionate about learning new things. Fortunately, my lifelong career as a market researcher has suited me professionally and personally since starting my first company in 1984."
"Since starting CX Talks and now CX Forums, I've furthered my mission and purpose in connecting individuals and communities. With the CX Forums events online and in-person I strive to create meaningful and memorable online programs and in-person events."
Connect with Mark on Linkedin: https://www.linkedin.com/in/michelson
Join the CX Forums group on LinkedIn: https://www.linkedin.com/groups/12058768
Follow CX Forums on Twitter: https://twitter.com/CxForums
By registering for this event, you agree that we may process your personal data in accordance with our privacy policy.