Description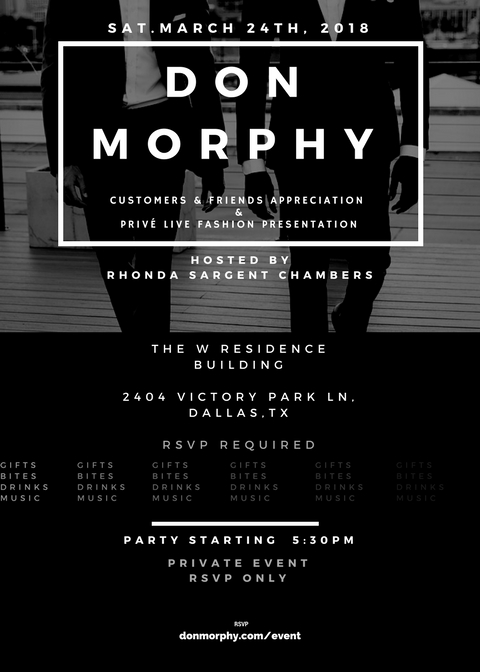 To all of our valued Don Morphy customers;
I am extremely pleased to announce an event that we at Don Morphy have been anticipating for many months now, and am so, so excited to officially invite you to our first ever Don Morphy Customer Appreciation and Fashion Exposé.
This event, exclusive to Don Morphy clients and friends, is our way of offering our sincere thanks to everyone who has shared in our vision of bringing custom clothing to Dallas, Texas.
All recipients of this email are welcome to join us on Saturday, March 24 at 5:30 in the evening. We will open the doors at our pop-up shop at 2404 Victory Park Lane and prepare an evening of dinner, drinks, and the latest fashions that Don Morphy has developed.
This is a free event, and we only ask that you RSVP and let us know if you are bringing a +1. An RSVP slip will be sent to you soon.
Thank you all very much for being part of the Don Morphy vision. Please do consider joining us for this exciting occasion.
Thank you, and all the best to everyone who has helped make Don Morphy such a success.