Description
Custom Fit & Fabulous: Create a Pattern Custom Fit to You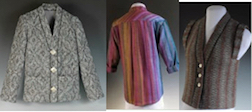 Friday, March 2 & Saturday, March 3, 9am-4pm both days
Instructor: Daryl Lancaster
WGGC members: $150 plus $12 materials fee (additional tools needed listed below)
Non-members: $175 plus $12 materials fee (additional tools needed listed below)
Skill level: All levels are welcome.
Workshop limit: 16
No more "one-size-fits-all" or clothes from rectangles! Choose between a time-tested classic jacket pattern, vest pattern, and/or tunic pattern. Participants will learn to custom fit for their individual figures. Some simple flat pattern and drafting skills will be taught in this workshop. Expect to leave with a least one finished pattern and directions to make a fabulous garment from your hand woven, felted, or other fabulous fabric.
Materials needed:
Tape measure

Small 6" seam gauge

Scissors

2 or 3 good quality colored pencils (i.e. Sanford Prismacolor)

Hand held pencil sharpener

Notebook and pen (highlighter is helpful)

Cardboard cutting board with printed grid OR foam core OR large (at least 24"X36") piece cardboard

Push pins for holding pattern to cardboard

See-thru straight edge ruler at least 18" long
Questions about the workshop? Contact the Chair, Ginny Bolte, at ginnybolte@yahoo.com.
Weavers Guild of Cincinnati Cancellation Policies Regarding Student Fees:
If the teacher or Guild cancels workshop – full refund to all registered and cancelled students. Generally, the teacher or the Guild may cancel the workshop three (3) three or more weeks before the workshop start date. This is stipulated in the instructor's contract but can be flexible if both parties agree.
If a registered student wishes to cancel, s/he must:

Contact the Workshop Chair
If canceling thirty (30) or more days before workshop start date, student receives a refund of the workshop fee minus a $50 cancellation fee.
Cancel twenty-nine (29) or fewer days before the workshop start date

Refund workshop fee minus $50 cancellation fee only if vacant spot is filled by another person (from waitlist or otherwise).
No refund if spot remains vacant.

Registered student may independently find someone to take his/her place at the workshop with no extra fees involved as long as no cancellation is performed through EventBrite. Workshop Chair MUST be notified. In this situation, the primary registered student is responsible for all fees, passing on information to their replacement, etc.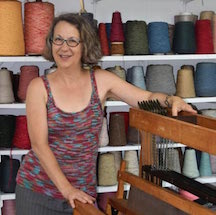 About the Instructor: Daryl Lancaster, a hand weaver and fiber artist known for her hand woven garments, has been sewing for more than 50 years. She gives lectures and workshops to guilds, conferences, and craft centers all over the United States. The former Features Editor of Handwoven Magazine, she frequently contributes to various weaving and sewing publications. Check out her web site: http://www.daryllancaster.com/index.html