Description

photo courtesy of ELOQUII
DREAM BIG
CurvyGirl Fashion & Beauty Conference
Get 20% off your ticket! code: DREAM17

Tickets purchased at the door are FULL PRICE!
VIP ticket holders will receive an invitation to our private Kickoff Party sponsored by Eloquii.

www.curvygirlconference.com / info@curvygirlconference.com
---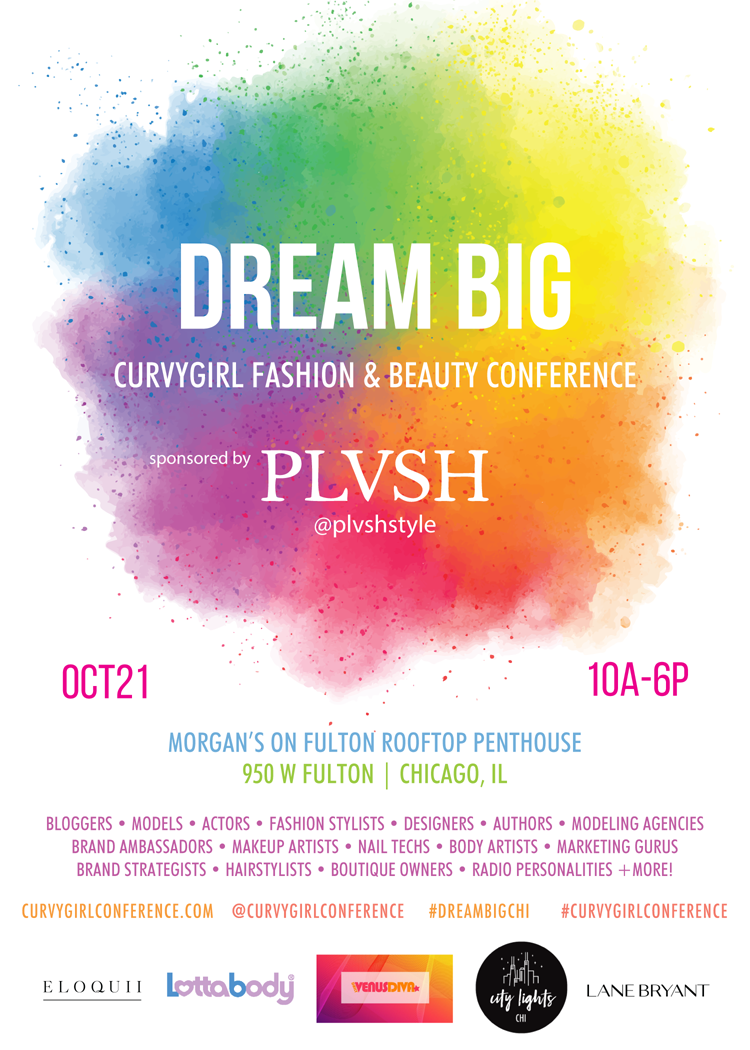 Time to get prissy and pretty because it's going down in the Windy City!
Time to get cute and chill with us at Morgan of Fulton's Rooftop Penthouse. We want to see all the curvy fashionistas, fashion stylists, bloggers and beauty lovers!
DREAM BIG is your opportunity to get educated, empowered and connected to build network relationships and turn your biggest dream to reality. It is the Midwest's first conference established to build a diverse community of curvy women who are fashion and beauty enthusiasts. Many top bloggers and influencers of the Midwest have collaborated to share their stories and the keys to building their own brand empire. While connecting our curvy community, this conference allows us to unite and give back to our local communities through our talents.


Please check the website for full schedule.
Vendors
Tote bags
Raffles
Food & Drinks
Music
See speakers' images at the bottom.
Panel Host
Candace McCollum, Radio Personality, Power 92.3 & 106.3 Chicago - Panel Host

Models
Jessica Milagros, Model, IPM Model Management
Emma Meyer, Model, Ford Model
Tesyln Butler, Model, Modelogic Midwest
Kim Hurley Sneed, Model, Chosen Factor Chicago

Fashion Bloggers
Alysse Dalessandro, Ready to Stare
Hayet Rida, Hayet Rida
Amber McCulloch, Style Plus Curves

Natalie Craig, Natalie in the City
Dasha Guyton, Windy City Wardrobe
Sierra Holmes, Eclectic Kurves
Beauty
Michelle Lee, Blogger, The Glam Mom
Patrice Yursik, Blogger + Naturalista, Afrobella
Rashia Williams, Freelance Makeup & Body Artist, Fierce Faces + Naturalista
Lauren Ward, Makeup/Hairstylist, Factor Chosen Model Management
Caitlin Krenz, Makeup/Hairstylist, Factor Chosen Model Management
Yvonne Wallace, Makeup/Hair Artist, 10 MGMT Model Agency
Fashion Industry Business Owners
Taylor Wallace, CEO, FYBS (F*%& Your Body Standards)
Cassandra Jones-McBryde, CEO, The International Fuller Woman Network
David Sanchez, CEO, 10 MGMT Modeling Agency

Qiana Norshea, Owner, Curve Culture Boutiques

Leslie Wong, CEO, Burgundy Fox
Workshop Speakers
Marcy Cruz, CEO + Content Creator, Fearlessly Just Me
Fearlessly Just You
Are you asking yourself, "Where do I start?"
Whether you're starting out as a blogger and/or model and building your brand, or just trying to build your confidence and body love, the foundation needed to succeed in life is not being afraid to be authentically you. Self-love is a gift you give yourself repeatedly throughout your life.
When you love yourself, the world is yours. You will be happy, you will be able to handle life's curve balls and you will believe in yourself. You will want to live each day fully because you know your worth and know you can do anything you set your mind to.
Join me as I share my own journey to becoming fearlessly just me and how I discovered the truths to keeping my confidence consistent and embracing the body I'm in. Learn how I transformed my life through fashion, travel, and self-care through my image struggles. This is a safe place where you can ask questions and get answers within a judgment-free zone.
---
Erica Watson, Comedian + Actress
Making It BIG (In the Business of Show Business)
Have you ever dreamed of Making It Big in the entertainment industry? Do you want to act in television and movies, or perhaps host your own talk show? Maybe you've even thought of being an on-air personality, talking head or contributor on a news program or podcast. Well, here it is—things you need to know to transfer your dreams to the big screen.
How to Get An Agent
How to Get the Perfect Headshot
What's Included in A Demo Reel
How To Prepare A Monologue
How Social Media Can Launch Your Career
---
Dannie Lynn Fountain, Author + Strategist + Educator
10 Steps to an Annual Marketing Strategy
Are you tired of stabbing in the dark when it comes to growing your audience? Are you frustrated with the disconnect between the content you're sharing and the number of people finding it? Planning your marketing strategy en masse is the key to a consistent brand presence and a consistent and engaged audience. This session will walk you through the 10 core steps to an annual marketing strategy, setting you up to head into 2018 with a clear plan for consistency with your audience and your followers. The strategy will connect all the pieces of your brand and is designed to ensure that all messaging and communication strategies are consistent and consumer-centered. You'll leave having identified your 2018 business goals, crafted a cross-platform marketing strategy, and feeling prepared for seamless execution through your business.
Book Raffle: The Side Hustle Gal, The Bucketlist Babe
---
Aaja Corinne Magee, Image & Personal Brand Strategist
Brand With Style: How-to Standout in the Marketplace
Chicago-based image and personal branding strategist, Aaja Corinne Magee, will uncover the keys to building a brand that speaks for itself. Attendees will learn how to create a signature style, identify their standout qualities, and develop a strong visual brand.
---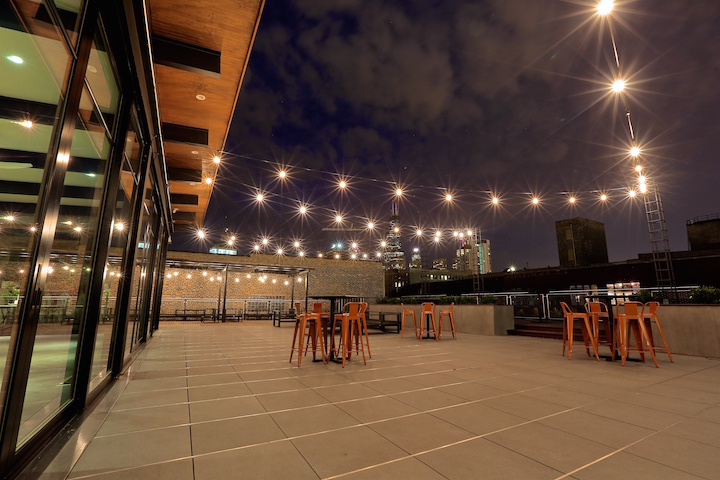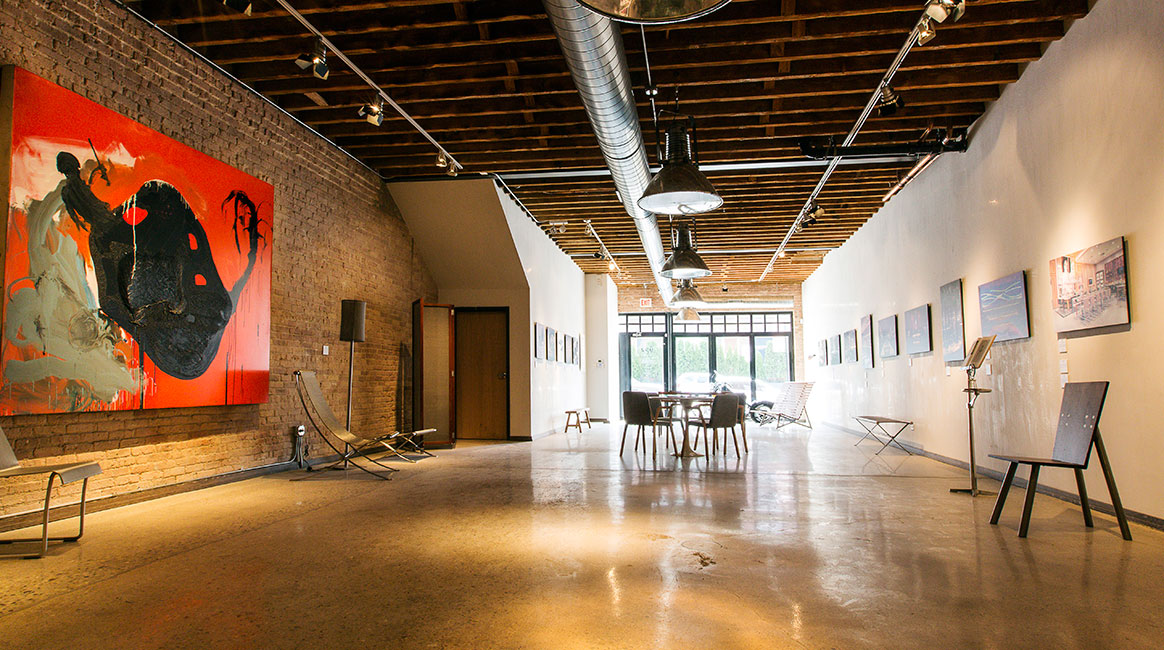 FAQs
Are there ID or minimum age requirements to enter the event?
18+
What are my transportation/parking options for getting to and from the event?
Valet Parking
Street Parking
Public Transportation (Accessible to the Green and Pink Line)
Ride Shares
How can I contact the organizer with any questions?
Natasha Williams at info@curvygirlconference.com
What's the refund policy?
No refunds unless otherwise stated by the organizer.
Teslyn Butler

Model

@teslynb

Natalie Craig

Blogger

@nataliexcraig

Marcy Cruz

Content Creator

@fearlesslyjustme

Alysse Dalessandro

Blogger

@readytostare

Dannie Lynn Fountain

Strategist Author Educator

@dannielynnfountain

Dasha Guyton

Blogger

@windycitywardrobe

Sierra Holmes

Blogger

@eclectickurves

Cassandra Jones-McBryde

CEO, Int'l Fuller Woman Network

@fullerworman

Michelle Lee

Blogger

@theglammom

Aaja Corinne Magee

Image & Personal Brand Strategist

@aajacorinne

Candace McCollum

Radio Personality, Power 92.3 & 106.3 Chicago

@candaceonair

Amber McCulloch

Blogger

@stylepluscurves

Emma Meyer

Model

@emmameyerhere

Jessica Milagros

Model

@jmilagrosplus

Qiana Norshea

Owner, Curve Culture Boutiques

@curveculture

Stephanie Penn

Co-Founder, Daily Venus Diva Magazine

@dailyvenusdiva

Hayet Rida

Blogger

@hayetrida

Fallon Sinclair

CEO, IPM Model Management

@ipmmodels

Kim Hurley Sneed

Model

@kimhurley_sneed

Erica Watson

Comedian Actress

@miss_poundcakes

Rashia Williams

Makeup Artist

@shia2fierce_mua

Patrice Yursik

Blogger Naturalista

@afrobella