Actions and Detail Panel
Curvy in Corporate | Workshop
Sat, April 1, 2017, 11:00 AM – 1:00 PM CDT
Description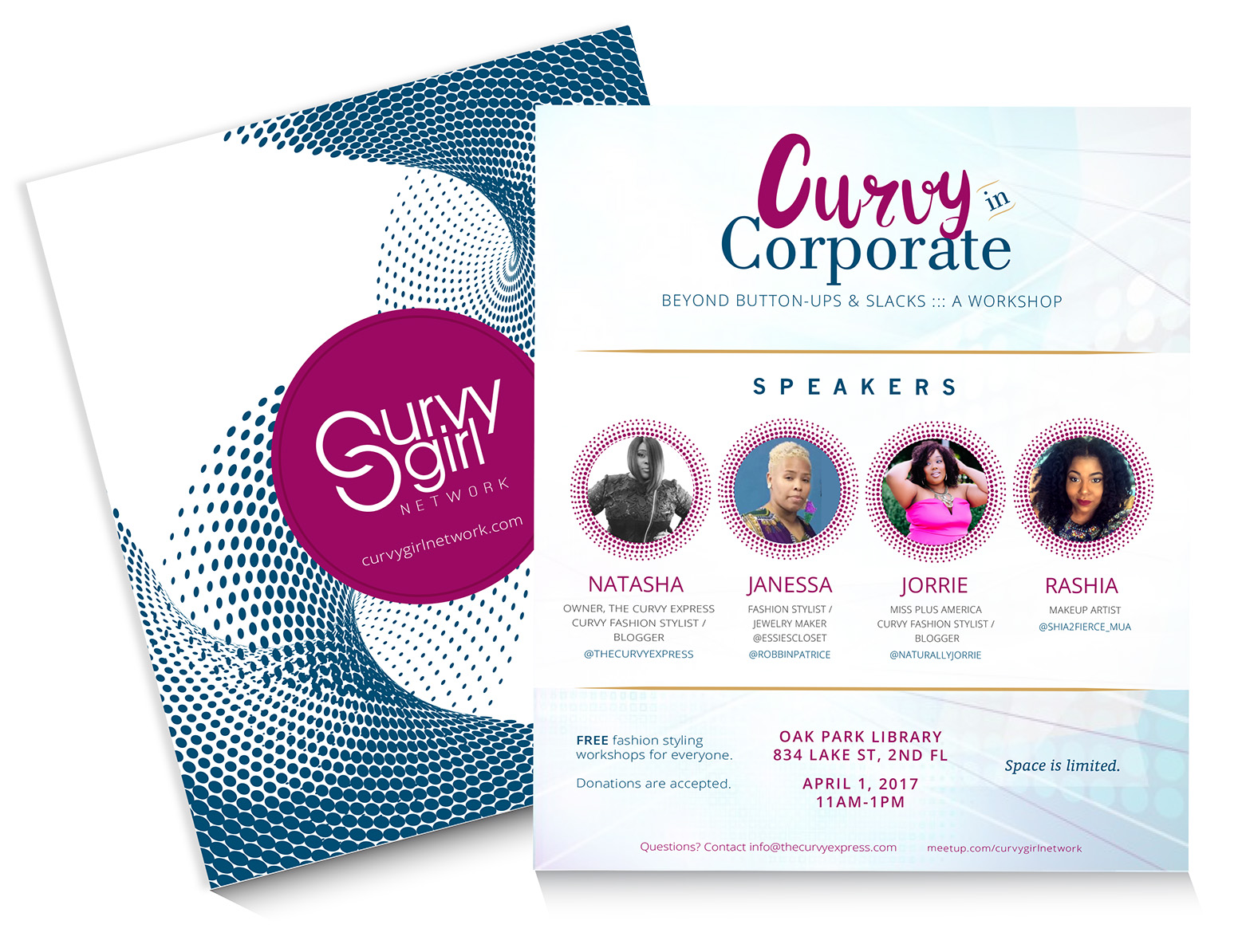 CurvyGirl Network and The Curvy Express host free workshops for plus-size women to learn more about defining a style and owning it.
---
Curvy in Corporate (Chicago): Beyond Button-ups & Slacks
Since Chicago is known more for corporations and not so much fashion, we decided to combine the two for our curvy women who work their butts off and feel they are too busy to ruffle through the racks. Shopping can be time consuming and often times a hassle if you aren't sure how to shop for yourself.
Whenever I see workshops for how to dress in the workplace, I see boring button-ups and slacks or looks that really do not fit my bubbly personality. Well, we are here to change that!
A few topics we will cover are:
Different Types of Business Attire

Finding the Fun in Mundane Monday (and the rest of the week)

Appropriate Accessories

The Perfect Shoe!

Makeup Appropriation

Makeup: Wrap It Up, I'm Late
And more!

Our guest speakers include:
Natasha (Host), Owner of The Curvy Express, Fashion Consultant & Blogger (@thecurvyexpress)
Janessa, Fashion Stylist and Jewelry Maker (@essiescloset, @robbinpatrice)
Jorrie, Naturally Jorrie Blog, Curvy Fashion Stylist & Blogger (@naturallyjorrie)
Rashia, Shia2Fierce Makeup Artist (@shia2fierce_mua)
We encourage you to join us in making a difference in Chicago and we get to do it the best way-- through fashion!
---
Please do not register if you do not plan to attend. If you are a no show (you register and do not cancel via phone or email), we will revoke the right for you to attend our next three events. Time and money are spent to plan these free events and we would love to share them with individuals who really want to join. We gain nothing more than the opportunity to meet new beautiful curvy women.
April 1, 2017
11a-1p
Oak Park Library
834 Lake St
2nd Floor, Small Meeting Room
Oak Park, IL 60301
http://oppl.org/
Parking
The Main Library Parking Garage is located on the lower level of the library and is accessible from Lake St. It is locked when the Main Library closes.
Rates
2 hours or less: Free
2 - 3 hours: $1
3 - 4 hours: $5
4 - 6 hours: $10
6 - 12 hours: $20
The kiosk in the garage lobby accepts cash and credit cards.
Find out about workshops and other curvy events firsthand in our free CurvyGirl Network Group, CurvyGirl Network Blog, Facebook, and/or Instagram.
This event is sponsored by