Curve Appeal Chicago is celebrating 10 years of a movement that has educated, empowered , and enriched the lives of women and girls.
About this event
You are cordially invited to the 10 year anniversary celebration of CURVE APPEAL CHICAGO, a movement that became a sisterhood, built an alliance and is now a nonprofit 501c3 organization.
This is a Black Tie Affair and ticket includes Dinner, Inspiring Speaker, Entertainment, Cash Bar and a 10 Anniversary Swag Bag of goodies.
This celebration will also include awarding the first Marco Nunez Scholarship to a college freshman and or senior, who is pursuing a degree in the area of Digital Cinematography or Photography, Media & Communications, Fine Arts or related.
Check out the organization at www.curveappealchicago.org
Curve Appeal Chicago's mission is to Educate and Engage women and girls through events, activities, resources and opportunities that Empower them to embrace and understand their worth, their value, their gifts and their ability to live a happy and healthy life. Curve Appeal Chicago also continues to be a platform that facilitates networking, learning, a sharing of experiences, and a strong sisterhood.
***Proceeds will use for the Scholarship Award and to benefit the organization. A portion of the ticket price is tax deductible.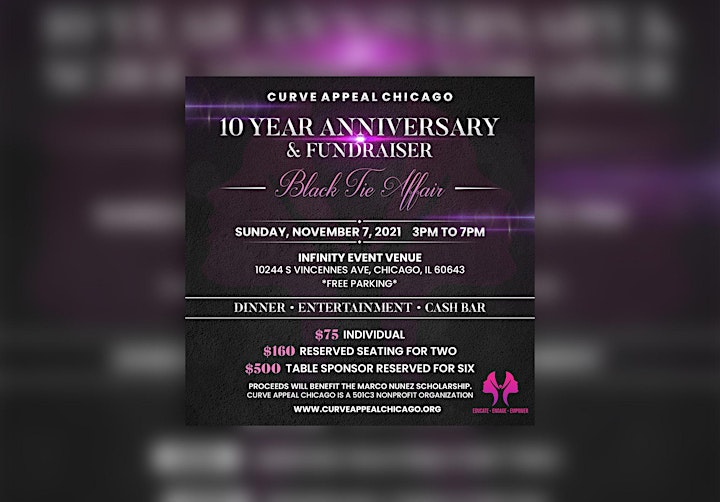 Organizer of Curve Appeal Chicago 10 Year Anniversary Celebration & Fundraiser