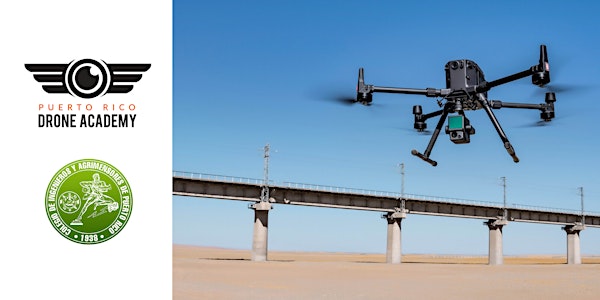 Curso Profesional de Inspecciones Técnicas y "Mapping" con Drones
Adiestramiento Certificado por el Colegio de Ingenieros y Agrimensores de Puerto Rico
When and where
Location
Puerto Rico Drone Academy Puerto Rico Drone AcademyCupey Gardens Plaza, #200, Suite 3-E San Juan, San Juan 00926 Puerto Rico
Refund Policy
Contact the organizer to request a refund.
Eventbrite's fee is nonrefundable.
About this event
Curso Profesional de Inspecciones Técnicas y "Mapping" con Drones (23 horas Contacto).
Adquiere los conocimientos y habilidades necesarias para manejar drones para analizar proyectos, construcciones, estructuras físicas, edificios y torres eléctricas.
La Industria de Drones representará 100 billones de dólares para el año 2022 y el sector de mayor crecimiento será la Construcción, la Agrimensura y las Inspecciones Técnicas.
El Curso lo Incluye Todo:
Adiestramiento para la Certificación Comercial / Licenciamiento FAA-107.
Clase Práctica Drone Coach de Vuelo y Manejo de los Equipos.
Clase Práctica de Software para Vuelos Autónomos y "Mapping".
Práctica en Ambiente Real: Construcción, Torre y Terreno con el DJI Matrice 210, DJI Matrice 300 RTK y DJI Mavic 2 Enterprise Dual.
Fechas y Horarios:
Clases Teóricas: Miércoles 27 de Octubre de 2021, 3 , 10, 17 y 24 de Noviembre de 2021 de 6:00 PM - 9:00 PM (Virtual vía Zoom y Google Classroom)
Práctica de Vuelo: Sábado 20 de Noviembre 1:00 PM - 5:00 PM (Presencial Puerto Rico Drone Academy).
Práctica de Inspección Técnica de Prueba: Sábado 27 de Noviembre de 2021 1:00 PM - 5:00 PM (Presencial Puerto Rico Drone Academy).
Módulo I. Adiestramiento Preparatorio para Adquirir la Licencia FAA-107 -(7) Horas:
- Regulaciones Federales para uso comercial de drones y preparación para el examen para adquirir la Licencia FAA-107.
- Orientado en la formación de los conocimientos básicos de aviación y regulaciones federales que debe tener un operador de aeronaves no tripuladas para el desarrollo de funciones comerciales como base de los requerimientos de la Ley FAA-14CFR PART-107.
Regulaciones del uso de drones a nivel comercial.
Clasificaciones del espacio aéreo federal (NAS).
Limitaciones y restricciones de vuelo: altura, velocidad y visibilidad mínima.
Consideraciones de meteorología aeronáutica para pilotos (UAV).
Operaciones en aeropuertos y torres.
Mantenimiento de equipos y procedimientos previos al vuelo.
Manejo de emergencias y consideraciones de seguridad.
Práctica Guiada del Examen FAA-107.
________________________________________________________________________________________________
Módulo II. Clase Práctica de Manejo de Drones - (4) Horas:
Equipos: Modelos de drones y equipos recomendados para inspecciones.
Operación: Manejo correcto del App DJI 4 y la operación del drone.
Mantenimiento: Manejo de baterías y mantenimiento preventivo de los equipos
Pre-flight Checklist: Lista de verificación previo a cada misión.
App Settings: Calibración e introducción a la aplicación DJI Go 4.
________________________________________________________________________________________________
Módulo III. Clase Práctica de Vuelo de Drones - (4) Horas:
Práctica de Vuelo Estructurada: Despegue, Vuelo, Aterrizaje Manual y Auto.
"Return to Home": Configuración de la altitud RTH.
Drone Flight Automations para Inspecciones: Modos de vuelo inteligentes. Otbit / Circle / Helix / Boomerang
Camera Settings: Profundizar en la configuración de fotos / videos y tomas.
Manejo de Emergencias: Manejar obstáculos, "Fly Away" y GPS perdido.
________________________________________________________________________________________________
Módulo IV. Fundamentos Básicos en las inspecciones con Drones en Techos, Edificios y Torres - (8) Horas
Uso y manejo del "software" DroneDeploy y PIX4D INSPECT para procesamiento profesional de imágenes, videos y data.
Planificación de vuelo previo a la construcción de modelos 2D / 3D.
Aprender a visualizar, medir, rastrear los cambios en el proyecto y exportar los datos adquiridos en todas las etapas para una ejecución más eficiente.
Planificación de misiones, recogida de datos y creación de informes.
Capturar datos combinando cámaras 4K y termográfica de alta resolución.
Procesamiento de imágenes aéreas para "mapping", medir, analizar e informar.
Generar informes y comprender todos los datos obtenidos.
El Drone se ha convertido en la herramienta perfecta para realizar inspecciones de infraestructuras, puesto que reduce costos, ahorra tiempo de inspección frente a los métodos tradicionales y se minimizan los riesgos operacionales. Además, proporciona un extenso archivo de data gráfica que recoge las incidencias para tener una constancia documental de las medidas adoptadas. Todo esto se consigue gracias a la perspectiva visual de las imágenes tomadas desde el aire.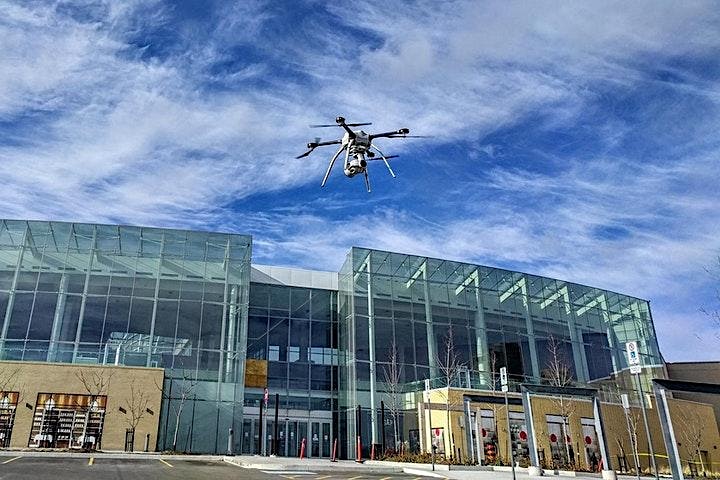 CORPORATE CHECKS / PURCHASE ORDERS TERMS: Call us at (787) 760-9191 to begin your Registration process. We need a Purchase Order Number (PO) or a signed Payment Commitment Letter and we will send you an Invoice. PO Terms are subject to prior approval and payments must be received in the same day of the Seminar.
CANCELLATIONS AND TRANSFERS: Cancellations are accepted with $100.00 Service Charge Fee, if and only when, a written notification is received and confirmed (10) business days prior to the programs starting date. Cancellation requests received after the (10) business days will not be accepted. No show is liable for full payment. Transfers will have a period of one-year from the date of the Transfer request. Transfers will be charged $35.00 for subsequent registration, plus any fee increases for the difference of the program event. Transfers will be allowed only up to one-year, after such date the full payment will be forfeited.
IMPORTANT NOTE: If an unexpected situation occur with an atmospheric system, we will change the seminar date. We will send you a notification by email with the new date. Puerto Rico Drone Academy (PRDA), shall have the right to cancel any such course for lack of enough participants prior to the scheduled date and will inform the registrants accordingly. All fees and deposits are be transferred to another session. We will not make money refunds.