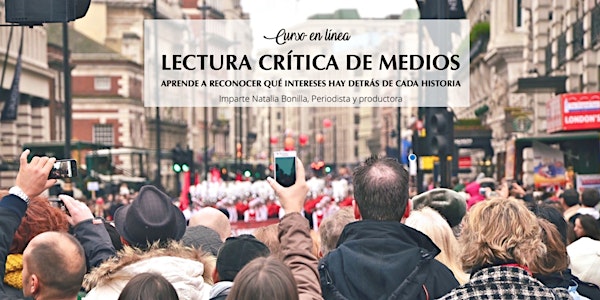 Curso: Lectura crítica de medios
Refund Policy
Contact the organizer to request a refund.
Description
¿Puedes reconocer qué intereses hay detrás de cada historia? La intensidad de los daños ocasionados por los desastres naturales, el cambio climático, la crisis política y económica en Venezuela, el movimiento Ni una menos, ¿sabes distinguir las noticias falsas?

Este curso introductorio te ofrecerá las herramientas para entender cómo funciona la prensa, cómo evaluar las fuentes y la calidad de la información presentada y te ayudará a estar más consciente de los contextos en que surgen las coberturas noticiosas.
Desde quién escribe o presenta una noticia, qué mensajes prevalecen y por qué motivos sus emisores buscan manejar la opinión pública hasta cómo se representa mediáticamente la "realidad".
En este taller evaluaremos algunos casos importantes de estudio en Latinoamérica y el rol de la prensa en presentar las historias. También, al inscribirte recibirás material de estudio y ejercicios de práctica para que aprendas a leer entre líneas, cuestionar la cobertura mediática y finalmente, puedas informarte mejor.
Lectura crítica de medios es impartido por la periodista y productora Natalia Bonilla y hay dos modalidades que puedes elegir. Ambis grupos recibirán materiales de estudio. La segunda opción de Clase + Taller trae 4 estudios de casos e incluye un taller individualizado para que tú escojas el caso a analizar y practicar los conocimientos. Los participantes de la segunda sesión recibirán un certificado al final de la sesión individual.
Reserva tu espacio hoy.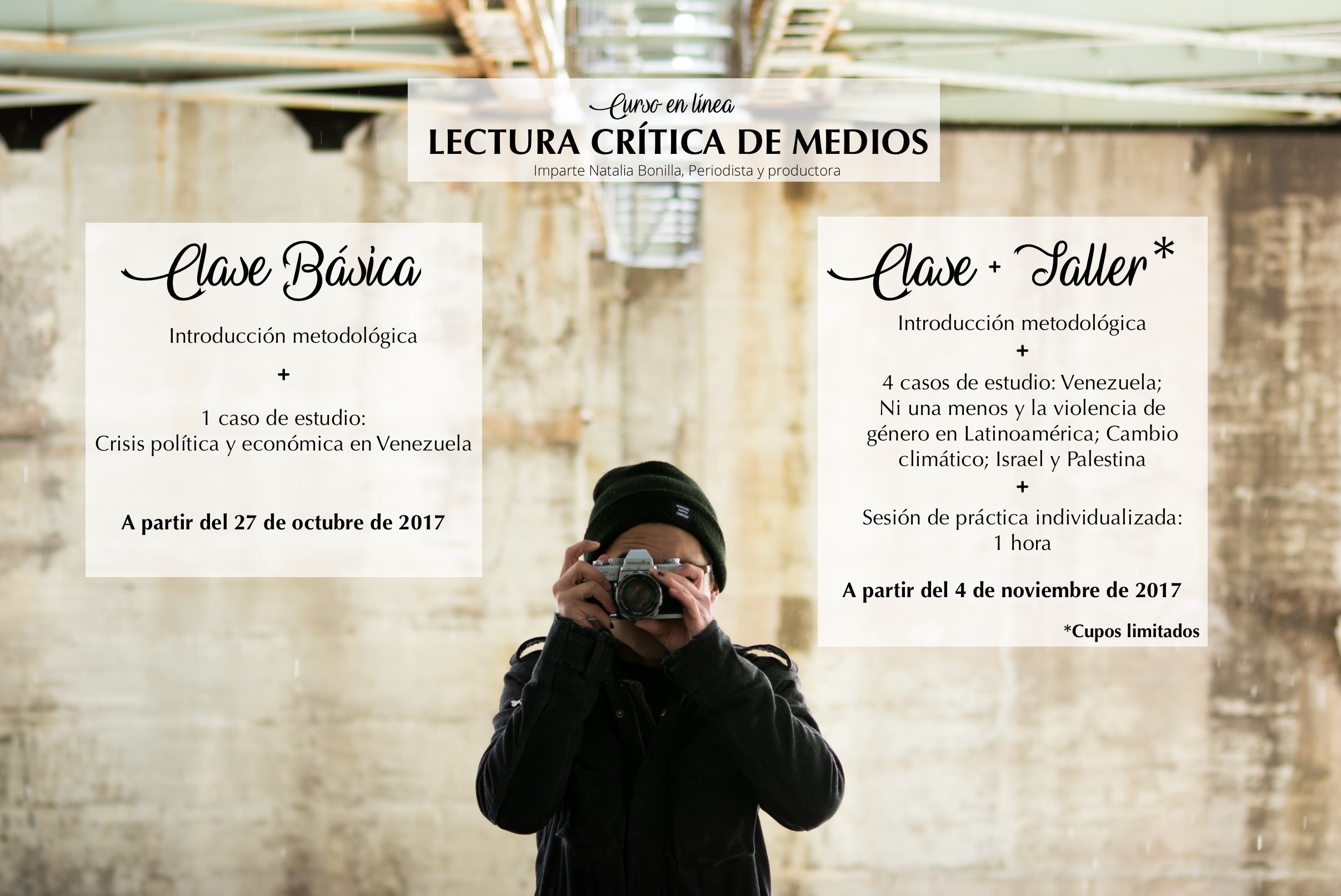 About the organizer
Natalia Bonilla es gerente de proyectos y consultora de negocios y medios de comunicación con un enfoque en el crecimiento holístico. Cuenta con más de 8 años de experiencia en la producción y gestión de proyectos periodísticos, culturales y empresariales en el Caribe, Latinoamérica y el Reino Unido.
Bonilla es periodista y productora con coberturas en más de 10 países de Latinoamérica, Europa, Medio Oriente y EE.UU. para medios internacionales como El Pais, The Guardian, National Geographic y Public Radio International. Posee una Maestría en Relaciones Internacionales de la Universidad de York; una Licenciatura en Periodismo de la Universidad de Puerto Rico; un Diploma de Posgrado en Periodismo de Conflictos y Paz de la Universidad Autónoma de Barcelona; un Certificado en Medios y Conflicto de la Universidad de Herzliya, en Israel; y un Certificado en Periodismo Humanitario del rotativo internacional El País.