Curso Extendido | Manejo y Administración de la Vacuna de COVID-19
Accede a la Grabación del Curso Virtual para el Manejo y Administración de la Vacuna de COVID-19 | No olvides es On-Demand
About this event
Para Acceder al Curso On-Demand del Curso sobre Manejo y Administracion de la Vacuna de COVID-19 y certificarte, no olvides seguir los siguientes pasos:
1. Deberas completar tu registro a traves de esta plataforma.
2. Al finalizar el Regsitro, estaras recibiendo un email con las instrucciones de como acceder a la Grabacion y Tomar tu Examen.
3. Acceder a la Grabación y finalizarla
4. Cuando finalices la grabacion, busca el Enlace para el Examen en el Email de Registro.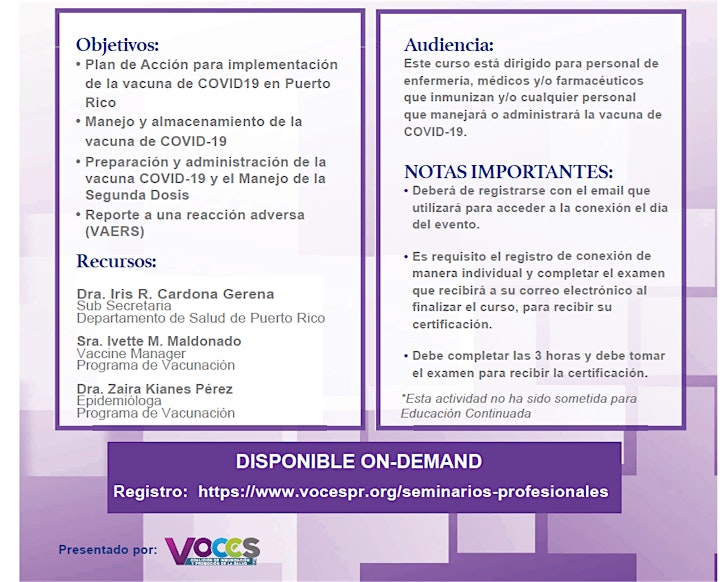 Organizer of Curso Extendido | Manejo y Administración de la Vacuna de COVID-19
The main purpose of our organization is to create resources, programs, and educational projects and to become the cornerstone for the defense, promotion and encouragement of health prevention in PR.
VOCES es un grupo multisectorial de base comunitaria comprometido en abogar por la inmunización de toda la población en Puerto Rico en forma equitativa, previniendo enfermedades por medio de la educación, promoción, análisis, acceso y política pública.