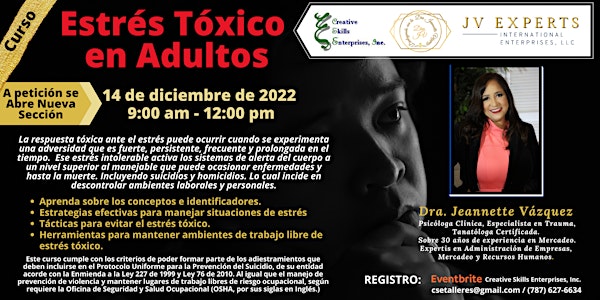 Curso: Estrés Tóxico en Adultos
Mejore su salud física y mental optimizando su calidad de vida personal y profesional. Sepa si tiene estrés tóxico y aprenda a manejarlo.
Refund Policy
Contact the organizer to request a refund.
Eventbrite's fee is nonrefundable.
About this event
Creative Skills Enterprises, Inc., Dialogando con la Dra. Jeannette Vázquez y JV Experts International Enterpriseslos in vita a que participen del:
Curso: Estrés Tóxico en Adultos
Los espacios son limitados. Se abre nueva sección, ya que se llenó el curso anterior y hay personas en lista de espera. Gracias por el apoyo. Sugerimos que realicen el registro HOY
14 de diciembre de 2022 - 9:00 a.m. - 12:00 p.m.
Plataforma ZOOM
La respuesta tóxica ante el estrés puede ocurrir cuando se experimenta una adversidad que es fuerte, persistente, frecuente y prolongada en el tiempo. Ese estrés intolerable activa los sistemas de alerta del cuerpo a un nivel superior al manejable que puede ocasionar enfermedades y hasta la muerte. Incluyendo suicidios y homicidios. Lo cual incide en descontrolar ambientes laborales y personales.
Aprenda sobre los conceptos e identificadores.
Estrategias efectivas para manejar situaciones de estrés
Tácticas para evitar el estrés tóxico.
Herramientas para mantener ambientes de trabajo libre de estrés tóxico.
Este curso cumple con los criterios de poder formar parte de los adiestramientos que deben incluirse en el Protocolo Uniforme para la Prevención del Suicidio, de su entidad acorde con la Enmienda a la Ley 227 de 1999 y Ley 76 de 2010. Al igual que el manejo de prevención de violencia y mantener lugares de trabajo libres de riesgo ocupacional, según requiere la Oficina de Seguridad y Salud Ocupacional (OSHA, por sus siglas en Inglés.)
Importante: Este curso es la versión condensada de 3 horas de forma virtual. El curso toma un mínimo de 6 horas. Puede solicitar una cotización para realizar el curso completo de forma presencial o virtual para su empresa.
Costo:
$35.00 por un participante.
Métodos de Pago:
Directo aquí por Eventbrite - Se cobra un cargo por servicio.
Registro para pago por ATH Móvil, cheque https://forms.gle/bwseYPyPyPPNV5KH6
ATH Móvil 787-627-6634 - Se elimina el cargo por servicio.
Cheque enviado a PO Box 251 Humacao, PR 00791 a nombre de Creative Skills Enterprises, Inc.
Si necesita Factura puede comunicarse con nosotros.
Cancelaciones con 7 días o menos de anticipación se cobra el 100%. Se requiere el 100% de participación para recibir el material didáctico y el certificado de participación.
Información: csetalleres@gmail.com (787) 627-6634