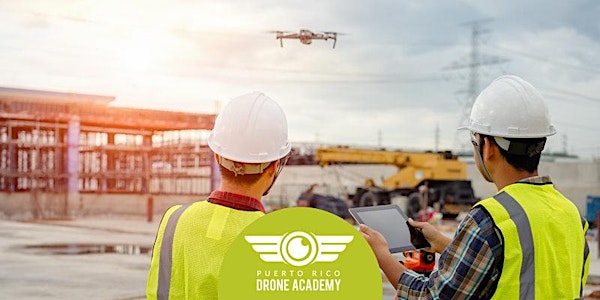 Curso de Licencia Drone FAA-107 (Nocturno Presencial)
Curso de Piloto de Drones Comerciales para la Licencia FAA-107
When and where
Location
Puerto Rico Drone Academy Puerto Rico Drone AcademyCupey Gardens Plaza, #200, Suite 3-E San Juan, San Juan 00926 Puerto Rico
Refund Policy
Contact the organizer to request a refund.
Eventbrite's fee is nonrefundable.
About this event
CURSO DE LICENCIA DRONE FAA-107
El Curso de Licencia Drone FAA-107 está orientado en la formación de los conocimientos básicos de aviación que debe tener un operador de aeronaves no tripuladas para el desarrollo de funciones comerciales.
El curso ha sido desarrollado tomando como base los requerimientos federales de la Ley FAA 14CFR PART 107. Especialízate en los diferentes campos de la Industria de Drones, y adquiere el conocimiento para realizar trabajos técnicos profesionales. ¡Aprende con Pilotos Expertos Certificados!
FECHAS Y HORARIOS:
• Fechas: 16, 18, 23 y 30 de Noviembre de 2021.
• Martes y Jueves 6:00 PM - 9:00 PM.
MODALIDAD PRESENCIAL:
Curso en modalidad presencial en el Centro de Adiestramiento de Puerto Rico Drone Academy en Cupey Gardens, San Juan.
Mapa > https://g.page/droneacademypr?share
MATRÍCULA:
El Curso de Licencia Drone FAA-107 tiene un costo total de $397.00 por estudiante. Aceptamos planes de pago con un depósito de $100.00. El balance debe ser pagado a través de tarjeta de crédito o ATH Móvil Business a PRDroneAcademy antes de finalizado el curso. Descuentos para grupos llamar al 787-641-9191. El costo del examen no está incluido en el costo de la matrícula.
OBJETIVOS DEL CURSO:
• Obtener el conocimiento teórico para pasar el examen para la Certificación FAA-107 de drones con fines comerciales.
• Obtener el conocimiento de las reglamentaciones federales del espacio aéreo federal (NAS)
• Con un formato práctico, se buscará mantener una dinámica participativa donde el trabajo en equipo sea uno de los factores determinantes del éxito.
TEMAS DEL CURSO:
• Regulaciones del uso de drones a nivel comercial.
• Clasificaciones del espacio aéreo federal (NAS).
• Limitaciones y restricciones de vuelo: altura, velocidad y visibilidad mínima.
• Comunicaciones por radio para pilotos (UAV).
• Consideraciones de meteorología aeronáutica para pilotos (UAV).
• Operaciones en aeropuertos y torres.
• Mantenimiento de equipos y procedimientos previos al vuelo.
• Recursos y toma de decisiones aeronáuticas.
• Manejo de emergencias y consideraciones de seguridad.
METODOLOGÍA:
Con una metodología basada en el aprendizaje práctico y la aplicabilidad real, el Curso de Licencia Drone FAA-107 está enfocado en introducir al participante en el emocionante mundo de los drones comerciales donde se abordarán aspectos como reglamentaciones, buenas prácticas de vuelo, usos prácticos del equipo, tecnología y oportunidades en esta creciente industria.
A QUIÉN VA DIRIGIDO EL CURSO:
Fotógrafos / Videógrafos, Ingenieros, Arquitectos, Agrimensores, Compañías de Seguridad, Policías, Bomberos, Topógrafos, Agencias de Publicidad, Agricultores, Empresas de Reparación de Techos, Energía Solar, Técnicos de Medio Ambiente, Pilotos o cualquier persona que quiera desarrollar una carrera profesional como pilotos profesionales de drones dentro de un nuevo y emergente mundo de los drones.
INSTRUCTOR:
Piloto Francisco Jeremías FAA Certified Pilot / FAA FAST Team Member - San Juan, P.R. Office
CORPORATE CHECKS / PURCHASE ORDERS TERMS: Call us at (787) 760-9191 to begin your Registration process. We need a Purchase Order Number (PO) or a signed Payment Commitment Letter and we will send you an Invoice. PO Terms are subject to prior approval and payments must be received in the same day of the Seminar.
CANCELLATIONS AND TRANSFERS: Cancellations are accepted with $100.00 Service Charge Fee, if and only when, a written notification is received and confirmed (10) business days prior to the programs starting date. Cancellation requests received after the (10) business days will not be accepted. No show is liable for full payment. Transfers will have a period of one-year from the date of the Transfer request. Transfers will be charged $35.00 for subsequent registration, plus any fee increases for the difference of the program event. Transfers will be allowed only up to one-year, after such date the full payment will be forfeited.
IMPORTANT NOTE: If an unexpected situation occur with an atmospheric system, we will change the seminar date. We will send you a notification by email with the new date. Anexo shall have the right to cancel any such course for lack of enough participants prior to the scheduled date and will inform the registrants accordingly. All fees and deposits are be transferred to another session. We will not make money refunds