Curso Básico de Meditación Raja Yoga en Español (Miami) Octubre 18-20
La meditación Raja Yoga nos da un claro entendimiento espiritual del ser, nos ayuda a redescubrir y a usar las cualidades positivas que esta
About this event
La meditación Raja Yoga nos da un claro entendimiento espiritual del ser, nos ayuda a redescubrir y a usar las cualidades positivas que estan latentes dentro de nosotros, nos permite desarrollar nuestra fortaleza interna y crear nuevas actitudes y respuestas en la vida.
Inscribase en nuestro curso de 3 dias para aprender los conceptos básicos de la meditación Raja Yoga.
Es obligatorio asistir a las tres primeras clases, sin embargo se recomienda hacer las 3 clases.
6:30 pm a 7:30 pm.
Por favor reservar usando Online: tinyurl.com/BKmeditacionEsp
Lugar: Centro de Meditación Brahma Kumaris en Miami
4160 SW 4th st, Miami. Fl 33134
spanish.miami@us.brahmakumaris.org y por teléfono: 305 442-2252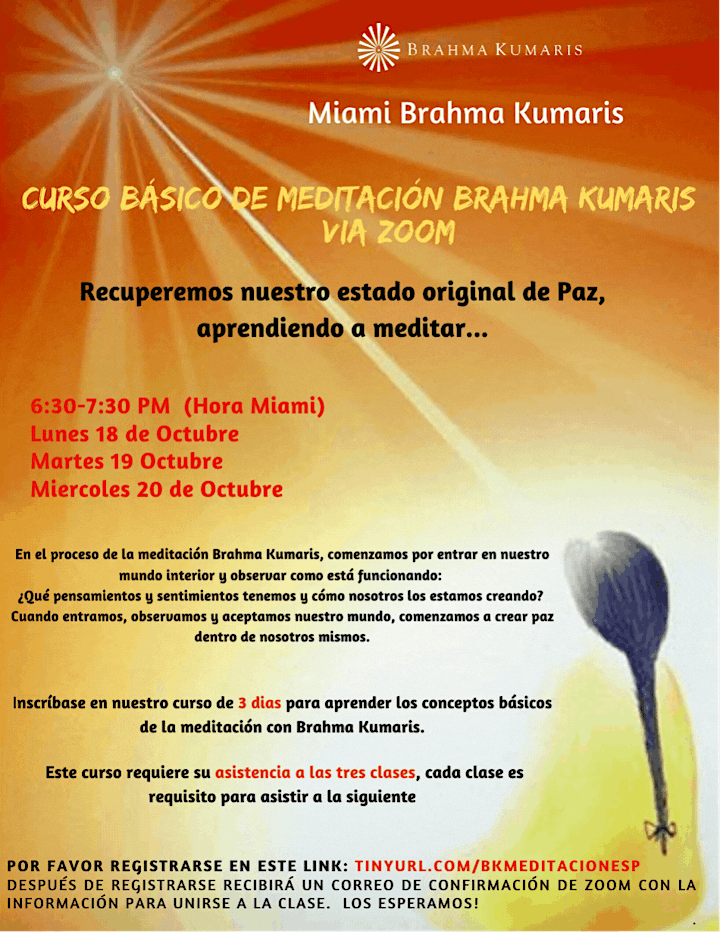 Organizer of Curso Básico de Meditación Raja Yoga en Español (Miami) Octubre 18-20
The Miami Center offers a selection of courses and lectures in BK Meditation on topics including meditation, positive thinking and spiritual development. They provide the knowledge and tools needed to relax, refresh and clean both the mind and the heart. For over 30 years, the Miami BK Meditation Center has offered a guided inward journey through the practice of meditation.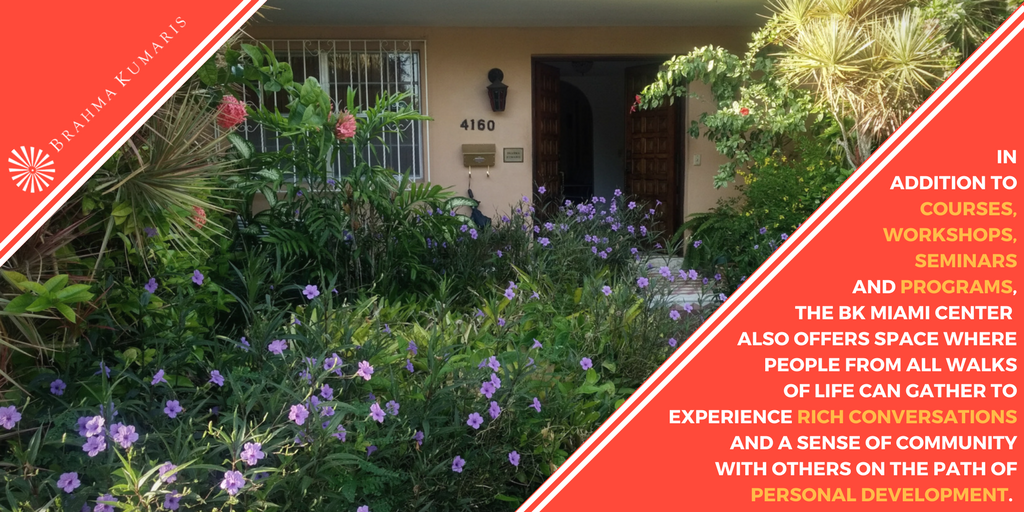 Whether you choose to stop in for a meditation, a class or an evening of conversation, you are sure to experience a spiritual vacation and a warm place where life-long learning and self development are as constant as the Florida sun.