Description
Calling all 'Nearly a Vets'!
You are invited to a Nearly a Vet Convention at Currumbin Wildlife Sanctuary
28 May 2017
11:30am - 1:00pm
What is a Nearly a Vet Convention?
Bring a stuffed animal and come and join Rebecca Johnson, author of the bestselling Juliet, Nearly a Vet series and the winner of the 2015 Prime Ministers Prize for teaching Primary School Science
Join other 'Nearly Vets' as we practise our vetting skills and learn about the things real vets do, with some extra special guests!
PLUS! A visit from the Currumbin Wildlife Hospital Vet Nurse and you are able to visit the hospital deck to get a bird's eye view of vet's in action.

You'll also get some tips on great story writing and character development.
All participants will receive a Nearly a Vet Kit to take home!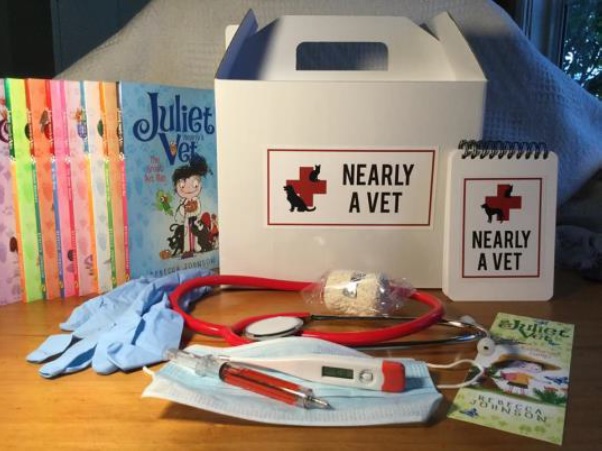 Kit contains:
• A proper child-sized heavy duty lab coat
• A working stethoscope
• A face mask
• Surgical gloves
• A real digital thermometer
• A pipette
• A specimen jar
• A bandage
• A Nearly a Vet diary
• A syringe pen
• A pet pack for stuffed animals
Cost: $45 per child / $25 per child for National Trust Members (includes entry to Currumbin Wildlife Sanctuary, participation in the Nearly a Vet Convention and a Nearly a Vet kit to take home)
Adults and non-participating children can purchase general admission tickets here

All children must be accompanied by an adult
Proof of membership will be required on entry at Ticket Gate for all member tickets purchased.
Eventbrite tickets must be showed on Ticket Gate entry at Currumbin Wildlife Sanctuary for access to the Nearly A Vet convention.
On entrance to Currumbin Wildlife Sanctuary please refer to your park map and the Nearly A Vet convention will take place at Green Patch Stage Map Ref: U6