Current Treatment Perspectives in Implant-Retained, Tissue Supported Overde...
Description
Schedule:
8:30 REGISTRATION
9:00 am - 10:30 am Guidelines for diagnosis and treatment planning of implant supported overdentures
10:30 am - 10:45 am BREAK
10:45 am - 11:15 am Review of complete denture occlusion
11:15 am - 12:00 pm Review of techniques for complete denture fabrication
12:00 pm - 1:00 pm LUNCH PROVIDED
1:00 pm - 2:45 pm Locator Removable Attachment: Next Generation
2:45 pm - 3:00 pm BREAK
3:00 pm - 4:30 pm Hands-On Session
4:30 pm - 5:00 pm Implant-Supported Overdenture Maintenance and Follow-Up Guidelines
CE Hours: 6.5
AGD Subject Code: 670
Course Description:
"Current Treatment Perspectives in Implant-Retained, Tissue Supported Overdentures"
When an edentulous patients' complete or partial denture lacks the retention and the stability necessary for comfortable wear it negatively affects their quality of life. To improve their condition clinicians will typically prescribe an implant-retained, tissue supported overdenture to provide better function, and esthetics.
Treating the edentulous patient with a prosthesis retained with implants can present numerous challenges to the clinician. These challenges can vary from simple problems to more complicated ones significantly affecting function and patient satisfaction. A strategic treatment plan is necessary to overcome these problems to ensure the final result will be predictable and satisfactory for the patient, and the clinician alike.
This program provides didactic and hands-on training for the successful treatment of the edentulous patient utilizing contemporary implant-retained, tissue supported treatment options. Many clinical situations will be presented with a step-by-step simplified approach to provide a final prostheses that meet patients' expectations from functional and esthetic perspectives.
Learning Objectives:
1. Review of the guidelines for diagnosis and treatment planning of full and partial implant-retained, tissue supported overdentures.
2. Provide an overview of the latest technologies in removable attachment systems.
3. Review the direct and indirect techniques for efficient and accurate pick-up of the denture attachment housing.
4. Provide an overview of innovative dental tools and materials used for overdenture modification and processing.
5. Review overdenture maintenance guidelines and proper hygiene protocols to ensure overdenture longevity and patient satisfaction.

Format:
Lecture & Hands-On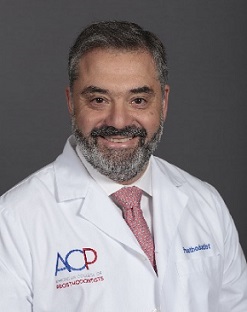 Speaker Bio:
Nadim Z. Baba, DMD, MSD, FACP
Dr. Baba received his DMD degree from the University of Montreal in 1996. He completed a Certificate in Advanced Graduate Studies in Prosthodontics and a Masters degree in Restorative Sciences in Prosthodontics from Boston University School of Dentistry in 1999. Dr Baba currently serves as a Professor in the Department of Restorative Dentistry and the Director of the Hugh Love Center for Research and Education in Technology at Loma Linda University School of Dentistry and maintains a part-time private practice in Glendale, CA. He is an active member of various professional organizations and a Diplomate of the American Board of Prosthodontics and a Fellow of the American College of Prosthodontists and the Academy of Prosthodontics. He is also the Associate Editor for the Aesthetics/Prosthetics/Restorative section at the Journal of Dental Traumatology and a reviewer for the Journal of Prosthodontics and the Journal of Prosthetic Dentistry. He is the author of numerous publications and has recently published a book entitled "Restoration of Endodontically treated teeth: evidence based diagnosis and treatment Planning" and has lectured nationally and internationally.



Cancellation Policy:
In the event that a registrant needs to cancel, please email education@zestdent.com at least 30 days prior to the course date to receive a full refund. Cancellations received less than 30 days, but more than 15 days prior to the course date will receive a 50% refund. No refunds are provided after this date. Failure to attend the meeting without written notification will not qualify for a refund.