Current Topics & Initiatives Affecting Health
About this Event
The conference will prove to be very informative and we look forward to having you join us in the ASHER Auditorium at Saskatoon City Hospital on Thursday, December 5th, 2019. Health care staff from all disciplines and areas are welcome to attend and participate in the diverse sessions which include current information in the morning on MAID, Guns & Gangs in Saskatchewan, ,Your Thyroid, and STROKE will be the focus for the afternoon.
Conference DESCRIPTION
The conference addresses current topics, and trends in the Saskatchewan population, and best practice guidelines and suggestions for providing information and support to patients, families and professionals in the hospital, classroom and community. Participants will be provided with research updates and given practical guidelines for intervention with these issues. Sessions will be discussion based with audience participation encouraged
PRESENTERS
The Saskatoon Guns & Gangs Unit is dedicated to disrupting and dismantling gangs, and address violence through prevention, intervention and enforcement. It will deal with serious habitual offenders and high-risk offenders in conjunction with the Saskatoon Integrated Drug Unit and the Combined Special Forces Enforcement Unit.
Dr. Gudrun Casper-Bell: Originally from Frankfurt, she is currently an Associate Professor, Head Division of Endocrinology at the Royal University Hospital, and the Medical Director of the Diabetes Education Center. She has a keen interest in science and technology, research, poverty alleviation, health, human rights, education and economic empowerment to name a few.
Dr. Jennifer Shi graduated from the University of Alberta (2006) with a B. Sc in Occupational Therapy, obtained her M.D. from the University of Alberta (2012) and completed residency training in Physical Medicine and Rehabilitation at the University of Ottawa (2018). Dr. Shi's clinical interests include stroke and electro diagnostic medicine. She is the Stroke physiatry lead in Saskatoon. She is also a member of the Saskatoon Stroke Program and Saskatchewan Stroke Strategy Expert Panel.
Dr. Brett Graham obtained his M.D. from the U of S (2012), completed a residency in Neurology (2016), followed by a Stroke Fellowship with the Calgary Stroke Program (2017). He currently works as an adult stroke neurologist with the SHA and is an assistant professor at the U of S. He is a member of the Saskatoon Stroke Program and the Saskatchewan Stroke Expert Panel.
Amanda Kenny graduated from U of S with a BScN and, went on to complete her Masters in Nursing/Nurse Practitioner She has worked in a variety of practice settings. Since 2012 she has practiced as a NP on the inpatient rehabilitation ward at Saskatoon City Hospital and has been a key player on the inpatient stroke team.
Dr. Lillian Thorpe is a psychiatrist with dual academic appointments as Professor of Psychiatry and Community Health and Epidemiology at the U of S. She obtained her M.D. at the University of Toronto, completed her residency in psychiatry and her Ph.D. in Community Health and Epidemiology at the U of S, She provides clinical services and education in inpatient settings, the Geriatric Assessment Program, nursing homes, and in the MAID program. She was a member of the committee which developed the MAID policy, and has now been involved with multiple assessments and MAiD provisions throughout the province and is actively involved in MAiD related research.
Jessica Niyongabo is a nurse practitioner with the Saskatchewan MAID program, where she is tasked with assessment, provision, education, and other administrative activities related to medically assistance in dying. She enjoys teaching and is a long-standing enthusiastic part-time teacher through the Polytechnic nursing program.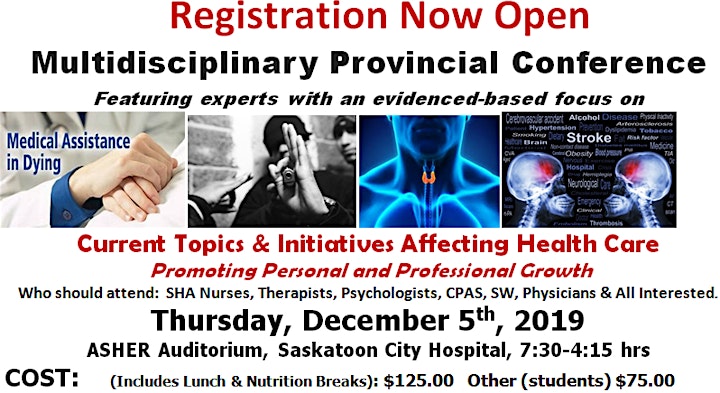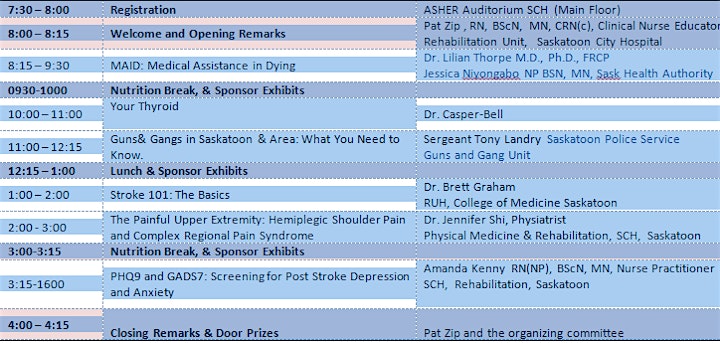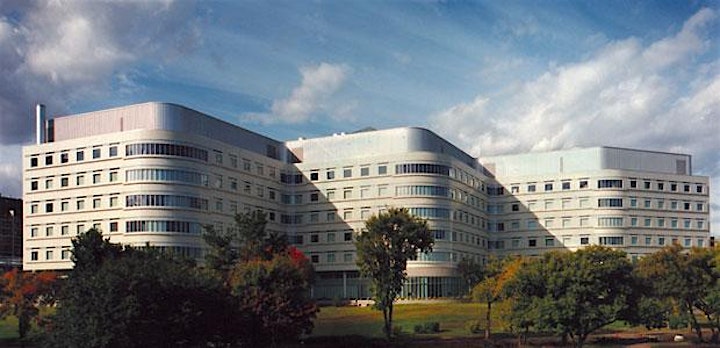 0730-0800: Registration
0800-0810 Welcome Pat Zip CNE/Conference Coordinator
0815-0930: Medical Assistance in Dying: Balancing Autonomy versus Protection of Vulnerable People .This presentation explores challenging cases from the past three years, focusing on difficult clinical decisions taking into account the law, ethics, and best practice.
Dr. Lillian Thorpe M.D., Ph.D., FRCP
Jessica Niyongabo NP BSN, MN
9:30-10 Nutrition Break & Sponsor Exhibits
10:00—11:00 Guns & Gangs in Saskatoon & Area: What You Need to Know.
Sergeant Tony Landry , Saskatoon Police Services
11:00-12:15 Your Thyroid
Dr. Casper- Bell
1215- Lunch & Sponsor Exhibits
1-2 Stroke 101: The Basics
Dr. Brett Graham
2:00-3:00 The Painful Upper Extremity: Hemiplegic Shoulder Pain and Complex Regional Pain Syndrome
Dr. Jennifer Shi
3:00--3:15 Nutrition Break
3:15-4PM PHQ9 & GADS7: Screening for Post Stroke Depression & Anxiety
Amanda Kenny RN(NP)
4-4:15 Wrap up.