Current Struggles of Wampanoag and Related New England Tribes
Current Struggles of Wampanoag and Related New England Tribes
About this event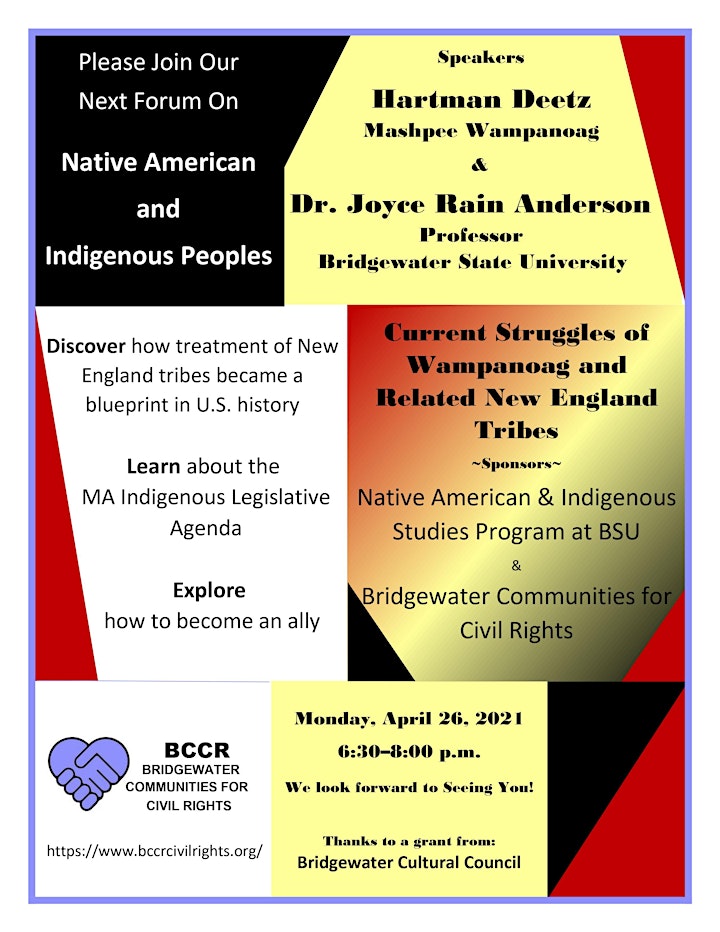 The Americans exhibit at the National Museum of the American Indian asks the question. "How is it that Indians can be so present and yet so absent in American life?"
https://americanindian.si.edu/americans/
In forming the United States, the settler colonialists created a myth of America's founding which slowly erases Native peoples from history and creates misrepresentations and stereotypes that distort the truth. However, Native peoples have not been erased. Rather, they continually resist the settler colonial attacks on their peoples and cultures.
Today, they still protect the land which has always been at the forefront of their responsibilities, and they resist the false histories and images that serve to keep them as vestiges of the past.
Discover how treatment of New England tribes became a blueprint in U.S. history
Learn about the Massachusetts Indigenous Legislative Agenda
Explore how to become an ally
Organizer of Current Struggles of Wampanoag and Related New England Tribes
Bridgewater Communities for Civil Rights (BCCR) is a community-based organization dedicated to defending the rights of all persons while fostering open communication, providing opportunities to examine issues of social justice and advocating for the elimination of bias and racism.