Current Events and Hot Topics in Sanctions, Sponsored by Thomson Reuters
Description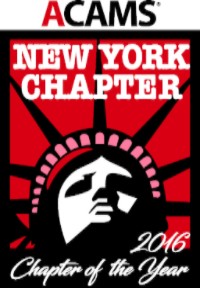 Sponsored by: Thomson Reuters
Topic: Current Events and Hot Topics in Sanctions
Date: October 13, 2017
Time: 6:00 pm
Address: Thomson Reuters
3 Times Square
New York, NY 10036

Scared of economic sanctions risk? Do you find the current political climate spooky? If so, then come to the ACAMS New York Chapter's Friday the 13th learning event where a panel of experts will discuss current sanctions topics such as Venezuela, North Korea, Iran and Cuba.

Moderator:
Howard Spieler, Executive Board Member, ACAMS New York Chapter
Panel:
Jesse Spiro, Thomson Reuters
Daniel Tannebaum, PWC
Michael Zytnick, Deutsche Bank

Cost: $10 for NY Chapter Members/ General Admission $50

*New York Chapter members receive first opportunity to sign up for events.

Please send any inquiries to acams.ny.chapter@gmail.com