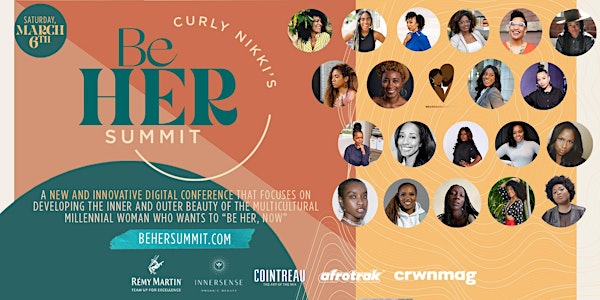 Curly Nikki's BeHerSummit
BeHerSummit is a virtual conference that focuses on developing the inner and outer beauty of the multicultural, millennial woman. March 6th.
About this event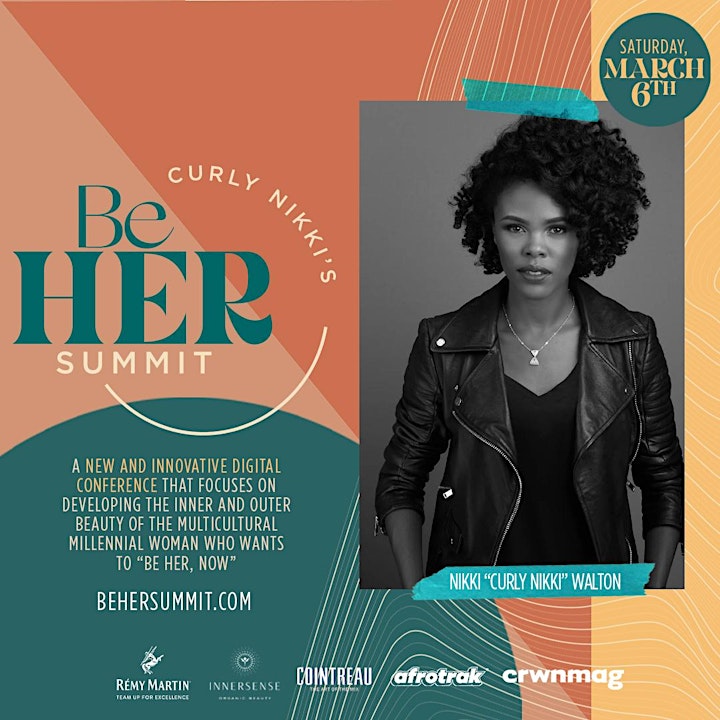 "Confidence is rediscovering and being your true. Self in private, so that you can be Her in public." - Nikki Walton
​BeHerSummit is a virtual conference that focuses on developing the inner and outer beauty of the multicultural, millennial woman who is choosing, in every moment, to be the best version of herself, her whole Self, now. The becoming is in the Being.
The conference, taking place virtually on Saturday, March 6, 2021 at 9am CST aims to focus on five main pillars of growth:
Wellness
Beauty
Entrepreneurship
Spirituality
Creativity
​This inaugural installation will offer a morning meditation, 20+ digital breakout rooms, virtual happy hour, DJ sets, and more, all led by women of color!
*NOTE: All Sales Are Final*
WELLNESS:
Elisa Shankle, co-founder, HealHaus (leading a session w/ Curly Nikki)
Brittany L. Hill, RYT200 + Reiki Master Teacher
Dr. Nicole L. Cammack, licensed Clinical Psychologist
ENTREPRENEURSHIP:
Kameron M. Buckner, Esq. Attorney / Content Creator
Jamesha L. Lucas, co-founder, Bronzed N' Glow Beauty Boutique
Heather Lowery, President and CEO of Femme It Forward
BEAUTY:
Abena Boamah, Founder and CEO of Hanahana Beauty
Tahirah Hairston, Fashion and Beauty Director, Teen Vogue
Yolanda Williams, Founder and CEO of Cream Blends Skincare Company
Aeleise Ollarvia, veteran cosmetologist, author, educator, and longtime curl nerd
SPIRITUALITY:
Ria Gonzalez, Spiritual Intuitive Coach/Founder, Brown Girl Connect
Shana Nunnelly, Intuitive Sound Therapist
CREATIVE:
Keri Shahidi, Principal, 7th Sun Productions
MEANDSOMEBODYSON is an inspirational Black Love Instagram Blog
Jasmine Solano, Co-Founder of Club House Global and Founder of Unity in Color // DJ - Host - Curator
Amelia Reid, Marketing/Brand Strategist, Black Game Makers Assoc. (will lead a breakout Black Girl Gamers room w/ the video game Hair Nah)
Chef Emani Nicole (15-min cooking session)
DIVERSITY & INCLUSION:
Whitnie Maree, Diversity & Inclusion Strategist, Social Influencer
Daisha Scott, MPA, Associate Manager, (DE&I) at Rémy Cointreau USA, Inc.
DJ LINEUP:
Hourglass, WERC Crew
DJ Rashida
More info about Nikki Walton & CurlyNikki.com
When Nikki Walton launched CurlyNikki.com in 2008, the 25-year-old psychotherapist had no idea it would change the way Black women feel about themselves. Her recognized platforms root from lived experiences and learned education, receiving nods from Forbes, Black Enterprise, NBC's Today Show, Steve Harvey, Dr. Oz, Tracee Ellis Ross and dozens more. Now, the best-selling and NAACP Image Award-nominated author, and host of the spirituality podcast, 'New Growth', engages with her nearly 1 million followers across social media. Her unique sensibility of inner and outer beauty is the force behind the new virtual conference, BeHerSummit.
More info about BeHerSummit
Walton hopes the inaugural conference will help women recognize that the becoming is in the Being. "I love and serve people — that's my purpose. In the past, this manifested as helping women who look like me find freedom through embracing their natural hair and skin. But for the past four years, there has been the inspiration to shift focus and share a path to ultimate freedom. I created BeHerSummit to help women step into their whole selves by being happy, now, being confident, now... by being HER, now." Walton partnered with co-founder, and organizer, Mike "Orie" Mosley of Afrotrak, and CRWNMAG for the inaugural conference, and anticipate over 500 attendees.