Event Information
Refund Policy
Contact the organizer to request a refund.
Eventbrite's fee is nonrefundable.
The CurePSP Virtual Family Conference is about PSP, CBD, and MSA management techniques for patients, caregivers, and families.
About this Event
The Virtual Family Conference is a two-day conference dedicated to learning management techniques for patients, caregivers, and families living with the neurodegenerative diseases PSP, CBD, and MSA. CurePSP encourages and organizes activities that foster communication, exchange of ideas and information, and interaction for people on this journey.
Topics
Brain donations and research
Wills and Advance Directives with FreeWill
Neuro-ophthalmology
Occupational therapy
Emotional support and self-care
Daily practical tips
A tour of CurePSP available resources and support groups
And much more!
Speakers
CurePSP staff and committee members
Check back soon for more updates!
Important Information
A reminder will be emailed out two hours before the beginning of the event and again ten minutes before the event.
This event will be recorded and emailed out after the event has been edited.
Conference Materials
We recommend downloading or ordering the CurePSP Caregiver Guidebook prior to the Family Conference as it will be referenced during this conference. It is available to download for free or for purchase here or it is available for purchase through registration checkout.
If you are unable to afford the conference, please use the promo code CUREPSP100 at checkout for a comped ticket.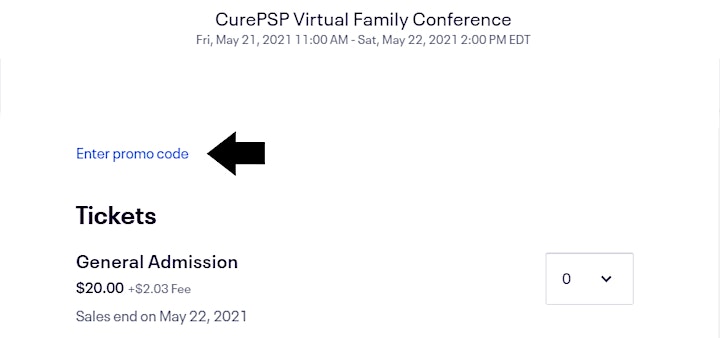 "Conference at Home" Curated Boxes
Be prepared to learn with everything you need in this specially curated CurePSP branded box of supplies! Each box includes:
One 8.5" x 11" Notepad
Two Pens
Two Wristbands
One First Aid Kit
One Canvas Tote Bag
One Reusable Metal Straw
Two Face Masks
Each box is $100.00 and includes shipping and handling. To get your box by the date of the conference please order by Friday, May 7, 2021. You can purchase them along with your registration or separately through Eventbrite checkout.
Orders placed after May 7 may not reach you in time for the conference however you will be well prepared for the next CurePSP educational event! Orders are submitted weekly on Fridays and fulfilled the following business day. Please allow 7-10 days for shipping. Refunds are not available at this time.
For any questions please contact CurePSP at events@curepsp.org.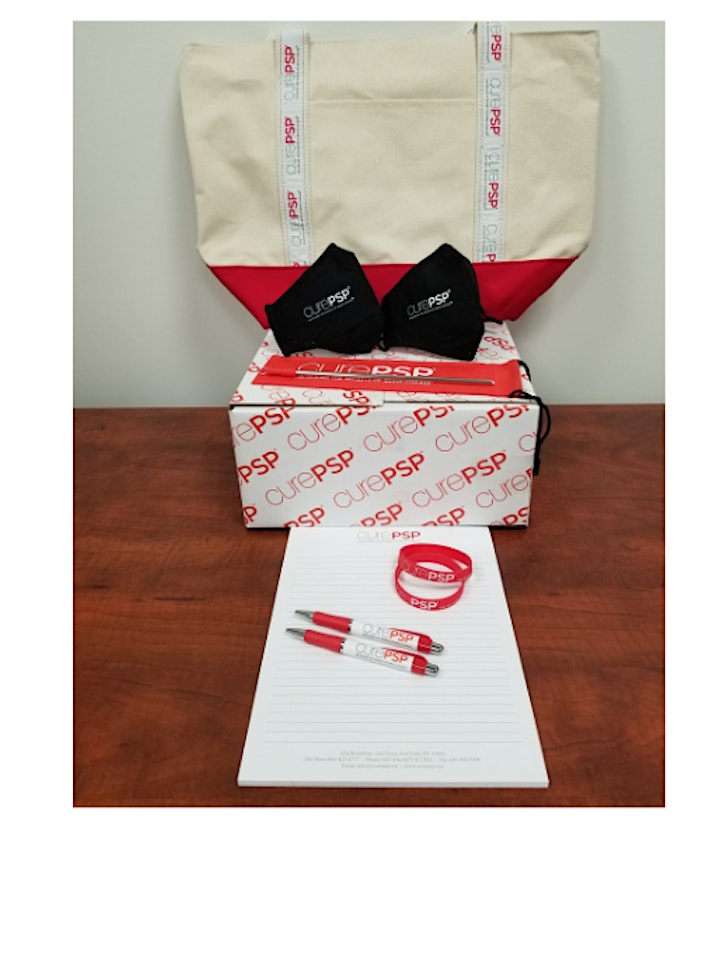 Photos!
Get decked out in CurePSP swag available here and take a picture for our online album! Photos can be emailed to events@curepsp.org or tag us on Facebook and on Instagram and use #curepsp!
To email pictures:
Please provide a high-resolution image with text in a JPEG or PNG format.
Images can be no more than 31.25 times wider than they are tall.
Each photo can be up to 200 MB.
Please include your name, phone number, and organization name in your email.
For any questions about merchandise please contact CurePSP at events@curepsp.org.
Sponsorships
Share your strategy and current plans with us and we can work with your organization to develop custom programs aligned to your individual needs. Any budget is welcome! There's something for your company, and every sponsorship can be tailored to your specific organizational development needs! Please contact Jaclyn Zendrian at events@curepsp.org for more information!
All submissions to the program and event are subject to approval. Any funds raised beyond the cost of the event will go to the general mission of CurePSP, Inc. Donations/gifts/sponsorships are tax-deductible to the amount allowable by law. Please consult your tax advisor.
This Event Supported in Part by

About CurePSP
CurePSP is the foundation for prime of life neurodegeneration, a spectrum of incapacitating and incurable diseases with debilitating motor, cognitive, behavioral, and emotional symptoms. These afflictions often strike in middle age when people have careers, family responsibilities, and active lives. They include progressive supranuclear palsy (PSP), corticobasal degeneration (CBD), multiple system atrophy (MSA), chronic traumatic encephalopathy (CTE), and others. Research has shown that there are important links between prime of life diseases and more common neurodegenerative conditions such as Alzheimer's disease and Parkinson's disease. CurePSP provides advocacy and support for patients, families, and caregivers; education for physicians and allied healthcare professionals; and funding for research. CurePSP, Inc. is a 501 (c)(3) organization. Federal tax ID number 52-1704978.
Date and Time
Location
Refund Policy
Contact the organizer to request a refund.
Eventbrite's fee is nonrefundable.