C.U.R.E. Leadership Circle Power Breakfast w/ Anthony Lolli, Founder & CEO,...
Description
Join Council or Urban Real Estate for an one on one exclusive interview with Anthony Lolli, Founder and CEO of Rapid Realty to discuss his real estate experience and the secrets to his success.
New York rents and property values have been on a meteoric rise, creating wealth — and new millionaires — across the region. It remains the hottest region for commercial and residential development and affordable housing. There is little wonder why New York real estate remains an attractive business for up-and-coming entrepreneurs.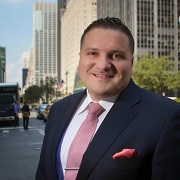 Anthony Lolli | Founder & CEO | Rapid Realty
Anthony Lolli rose from humble beginnings to become the founder and CEO of Rapid Realty—New York's largest apartment rental brokerage. Anthony is also a successful real estate investor and developer, with a portfolio of more than a dozen mixed-use and multifamily properties throughout prime areas of Brooklyn.
In 2009, Rapid Realty became the nation's first rental-based real estate franchise. Under Anthony's leadership, Rapid Realty grew from one location to sixty in just three years. In 2012, Rapid Realty was named one of the fastest-growing companies in America by Inc. Magazine, as well as one of New York City's Best Firms to Work For by The Real Deal. In 2013, they were awarded the Franchisee Satisfaction Award by the Franchise Business Review. Today, Rapid Realty is expanding to new cities across the nation.

Anthony also founded Express Real Estate School in Brooklyn, which to date has helped over 40,000 people launch their real estate careers.