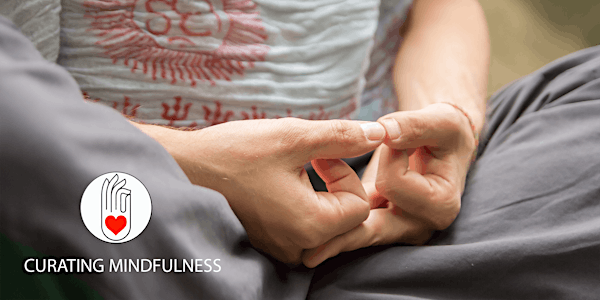 Curating Mindfulness Meditation Experience
When and where
Location
Zhou B Art Center 1029 West 35th Street Chicago, IL 60609
Description
Come together as one, to the first Curating Mindfulness Meditation Experience. Join the first Mass Meditation Experience and Movement. Help us lift the spirit of our planet with the love in our hearts, starting with the city of Chicago.
Free Meditation For All.
All we ask is to please bring $1 (min) at the door to donate back to our partner charity LAWRENCE HALL on the day. They are also asking for donations of- warm coats, gloves, scarves and winter accessories on the day. All children's sizes needed, but mainly young men and women's needed most.
Meditation starts promtly at 9am - Meditation Hall doors will be sealed at 8:59am. Pre-registration required to guarantee entry.
NAMASEAT MINDFUL LOUNGE
8:00am - 8:50am
Come early, relax and meet our vendors in the Mindful Lounge. Please arrive in time to settle as the doors to the meditation will promptly close at 9am
INTRODUCTION + MEDITATION EXPERIENCE
9:00am-9:40am
Lead by: Vanessa Palmer & Sarah Palmer
RELAXATION & SOUND THERAPY
9:40am - 10:00am
Lead by: Chad Soderholm and Jade Lyons
LIVE MEDITATIVE + PERFORMANCE ART
10:00am - 10:30am
Performed by: Sarvin Haghighi
NAMASEAT MINDFUL LOUNGE
10:00am - 11:00am
Connect to local wellness practitioners, yoga+meditation studios and mindful brands in the Chicagoland area.
MINDFUL TALK
10:30am - 11:00am
Our panel will be talking live on the Mindfulness Movement and how their journeys began to what they are doing today. This series will be filmed for Facebook Live and Online TV.
Arrive Early To Secure Your Space
** REMINDERS**
Please bring your own Yoga Mat, Meditation Prop or Blanket to fold and sit on. We are not providing any props and the floor is concrete. Also please remember to wear or bring socks as no shoes are permitted in the meditation area. Cell phones must be completley turned off from 9:00am - 10:00am during the experience.
The meditation experience will start right on 9:00am. Doors will open at 8:00am for you to check in and find your space to set up. Doors will close right on 9:00am so the meditation experience can start. There will be no entry permitted inside after 9:00am so please arrive early to secure your spot.
NAMAseat Mindful Lounge
Pre and Post meditation experience we will open the NAMAseat Mindful Lounge where you can relax, sample some amazing juices, Kombucha, products and connect with some of our brand partners, wellness, yoga, meditation and sound therapists. Learn about some of the studios and wellness brands around Chicagoland. There will be pop up boutiques selling yoga and meditation apparel, books and holistic products.
FAQs
Experience Level
This experience is open to everyone. All levels. We welcome as many people as possible that have never done meditation or any form of yoga. This is a comfortable open environment where you can start your journey and get on your path to mindfulness in a loving welcoming community.
Ages
Open to all ages above the age of 8. If children are attending, they must be able to sit quietly in the space for 1 hour and not get up or move around the space till the experience is finished. All children under the age of 16 must be accompanied at all times with an adult. We will be holding experiences in the future for children wanting to learn meditation. There is no baby sitting or areas for you to bring children to this experience while you are in practice.
What are my transportation/parking options for getting to and from the event?
Parking is free. There is a large parking lot that holds several hundred cars on location.
What can I bring into the event?
Please wear loose comfortable clothes. We recommend bringing a wrap or shawl to cover your shoulders and lay over your body during relaxation. Bring either a yoga mat or thick blanket you can fold over to sit and lay down on and any other pillows or props you would like to use to make yourself comfortable. We will not be providing yoga mats or blankets in this space. We will be sitting on the floor for the meditation experience.
How can I contact the organizer with any questions?
Please send all questions to - curatingmindfulness@gmail.com