Learn about ecological interactions, get introduced to the Biomimicry Thinking process and create your own knowledge ecosystem using this!
About this event
Biomimicry Switzerland invites you to our FREE webinar of June 2021!
CURATING KNOWLEDGE ECOSYSTEMS USING THE BIOMIMICRY THINKING PROCESS:
Presented by
Hugo Araujo
Biomimicry Professional, Entrepreneur and Artist
About this Webinar:
Hugo Araujo is a Biomimicry Professional (2011-2013) and co-founder of 7VORTEX SRL in Belgium. He is one of the first 30 biomimicry professionals worldwide and is certified by the Biomimicry Institute. His company is the digital design firm behind virtualgaia.com and 7vortex.com, a collaborative platform for a new kind of problem solver.
In this webinar, Hugo will walk us through the process of how a regenerative technology was designed from nature and using the Biomimicry Thinking Process. The take away for you will be to gain the basic skills to create your own Knowledge Ecosystem while Hugo also shares some insights about ecological interactions.
More about our Speaker, Hugo:
Hugo is an entrepreneur who has taken part in groundbreaking research in the field of biomimicry and travelled to remote locations to explore the diversity of ecosystems. As an expert in managing multidisciplinary teams, he has developed new systems, methodologies, and tools for positive impact. His main drive is to find a balance between humans and nature with a special focus on sustainable innovation and business. Hugo, in his spare time, is also an artist reflecting on his scientific and social learnings through his art (vibriofischeri.com) that metamorphosized after a deep reconnection with nature and indigenous cultures.
About Hugo's company, 7VORTEX:
7vortex SRL is a biomimicry company based in Belgium (since 2017) as a result of more than 10 years of front-line iterations on impact evaluation, sustainability and innovation. With a mission to find harmony between ourselves and our habitat by creating solutions aligned with life, their intention is to create beautiful narratives using technology and business as a regenerative force for the planet.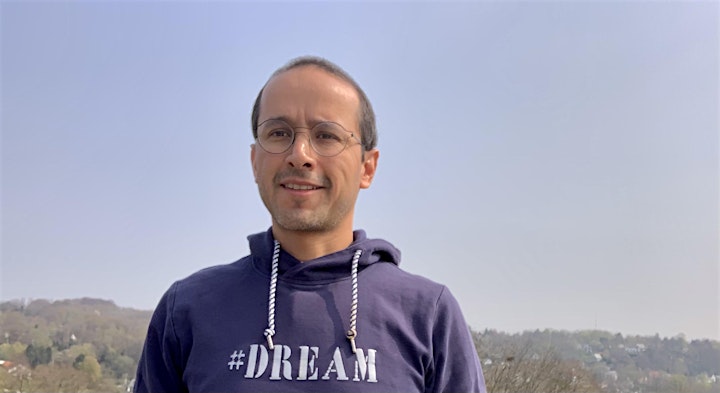 Organizer of Curating Knowledge Ecosystems using the Biomimicry Thinking Process