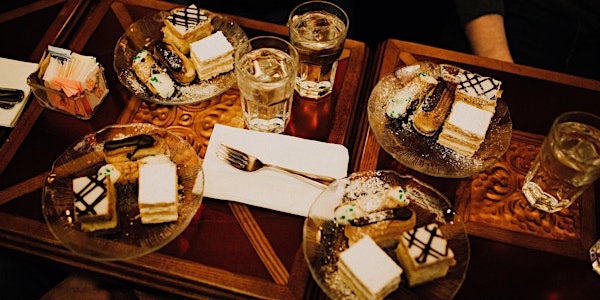 Curated 4-Course East Village Culinary Journey
Our East Village, NYC Food Tour showcases the ethnic cuisines and culture that makes this one of the most diverse eating grounds in NYC!
When and where
Location
Meeting Location - https://avitaltours.com/nyc-food-tours/east-village-food-tour-meeting-locations/ New York, NY 10003
Refund Policy
Contact the organizer to request a refund.
Eventbrite's fee is nonrefundable.
About this event
A luxury experience that won't break the bank!
Join us on our NYC East Village Food Tour as we explore one of New York City's hottest restaurant and craft cocktail scenes – known for its role as the birthplace of punk and artist hangouts. Hear the stories of restaurant owners and chefs as you enjoy our 4-course progressive meal. Taste a bite of Little Ukraine, and other ethnic cuisines from immigrants who have made the East Village one of the most diverse eating grounds in NYC. Let's eat and drink through this cultural neighborhood!
How it works
Our 4-course progressive prix-fixe dining experience visits 4 restaurants – two appetizers, one entree, and one dessert, with a sprinkling of culinary history and stories in between.
Our New York City East Village Food Tour focuses on quality over quantity. Like a great sushi meal, our goal is to have you sample the highest quality ingredients – small dishes with huge flavor. We strive to shift your perspective of the neighborhood and its food through the story of the chef who made it.
Possible Tastings (Each Tour Includes 4)
Savory fried selection of eight filled Pierogi including sweet potato and arugula and goat cheese fillings at historic Ukrainian restaurant known as a locals institution
Handmade Spaghetti with olive oil, garlic and broccoli and Uncle Tony's Handmade Gnocchi at well-loved popular authentic Italian restaurant
Unique Sichuan dry pot with ingredients such as konjac noodles, lotus root and chicken thigh from young Chinese chef who is making waves in the East Village as a Michelin Bib Gourmand Favorite
Enjoy duck croquette pintxo and manchego membrillo pintxo or off menu housemade hot dog at trendy basque restaurant from Chef Jonah Miller featured "Generation Chef" in the book about his journey
Mouthwatering Vegan Pizza from acclaimed Chef Matthew Kenney who is reshaping the future of food and delivering a unique artistic food experience
Lobster Knuckles escargot-style (trust us, its delicious!) and Fluke Crudo with Carrot Puree and black sesame at local oyster bar East Village favorite
Delicious Steamed Pork Belly Buns from acclaimed Momofuku Chef David Chang who reinvigorated the East Village culinary scene
One of New York City's best NY-style cheesecakes at historic stained-glass frescoed Italian Bakery with coffee
Have your heart set on a particular tasting? Call us at 415-355-4044 to find out which restaurants will be featured.
3 Drink Alcohol Pairing Upgrade ($26/pp)
Celebrate with a glass of bubbly champagne paired with bright seafood at Mermaid Inn – an East Village favorite
Unique refrescos featuring housemade vermouth at innovative bar program from Basque Restaurant
Brunch mimosas paired with Vegan Pizza – take it up a notch!
Locally brewed Locally brewed Toast Ale made from recycled bread to tone down the Sichuan cuisine heat
Just The Facts
Alcohol pairing upgrade for guests 21+: $26 per person for 3 tasting drinks
Flat route, approximately 1 mile
Our start location varies but is always within a 3-block walk from Tompkins Square Park in the East Village and (Located on the 4,5,6 line or M line).
Intimate tour groups limited to 12 people
This is a social dining experience. One of our core values at Avital is Create Community, so we feel the best dining experiences are the ones in which we're seated around tables sharing food and stories with others.
Therefore, we have a 4-person minimum. If the minimum number of guests is not reached, we will contact you to help you reschedule onto another time or date with other guests, or offer a refund.
Don't see the date or time you want? Have a group of 8 or more and want to upgrade to a private tour? Email groups@avitaltours.com.
Gratuities not included – please consider tipping your guide
Advance Tickets are required
Dietary Restrictions
One of our core values at Avital is Breathe Curiosity. We enjoy introducing you to new foods and old favorites in new ways. We very much encourage guests to be adventurous and try something new – we've even had an 80-year old man try his first oyster with us! Thus, while we love the diverse ways our guests choose to eat, we can accommodate the following restrictions.
Vegetarian
Pescatarian
Gluten-free
Pregnant Guests
No Pork
No Seafood
You will be asked for your dietary restrictions during your booking process. If you are unsure if we can accommodate your restriction, please email us at info@avitaltours.com. Please note that this tour may include nuts, dairy, seafood, spicy food and pork
COVID-19 Information
To keep you and other guests safe, proof of vaccination is required to participate in our food tours, and masks must be worn in all restaurant settings except when eating. Please bring your proof with you on the tour or you will not be able to participate.