A Drop In Support Group titled "C.U.P.P of Hope" for Survivors of RA/MC is a resource provided by Grassroots RA/MC Collective
About this event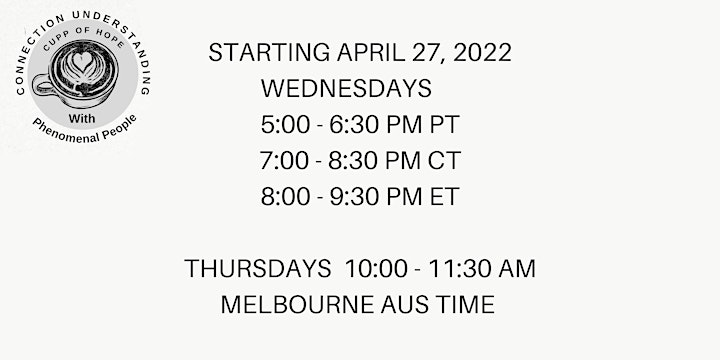 Are you a survivor of ritual abuse and mind control?
Are you needing support in a confidential environment where you can share without judgment?
Move out of isolation into community with other survivors.
A new resource is available provided by Grassroots RA/MC Collective run by volunteers that are survivors or ritual abuse and mind control. A drop in support group called "Cupp of Hope" (Connection and Understanding With Phenomenal People) is a zoom group facilitated by Joanie and Sharri. Drop by for a Cupp of Hope each Wednesday. See above schedule for times. RA/MC happens in isolation and secrecy, causing deep wounding. Wanting connection and developing relationships can feel unsafe and elicit fear and anxiety because trust was violated in the context of a relationship. Recovery happens faster in safe relationships in a community with other survivors. Move out of isolation into relationship with others who have had similar traumas. Research has proven that spontaneous healing comes from safe supportive groups. Sharing your struggles, being vulnerable, connecting with other survivors promotes integrative, transformative wholeness and a renewed sense of belonging. By creating an environment without judgment or condemnation with confidentiality where you can be heard without anyone interrupting we witness each others value and worth. By giving back to others we who have been given hope in our own recovery can encourage others through our shared experiences, and help you to feel less alone. By offering compassion we become a source of hope that brings empowerment within the collective. While this drop in group is not therapy, coming together with other survivors in a sacred, safe space is therapeutic.
Sign up is through Eventbrite.