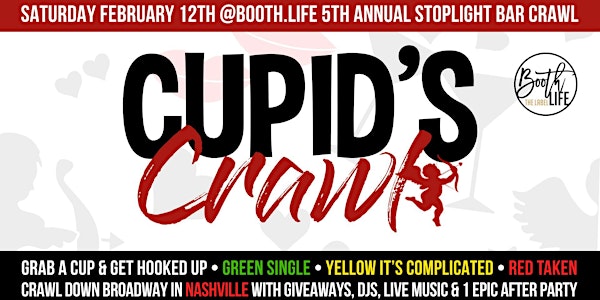 Cupid's Crawl a Nashville Bar Crawl by Booth Life
Join us for our 5th annual Cupid's Crawl - Brought to you by Booth Life - Crawl down Broadway to over 7 venues with Special additions!
When and where
Location
HQ Headquarters Beercade Nashville 114 2nd Ave South Nashville, TN 37201
About this event
Saturday, February 12th #BoothLife presents our 5th Annual #CupidsCrawl down Broadway in Nashville, Tennessee. Toast to being Single, Find a Bae or Celebrate being Hitched! Each Guest will be allowed to pick the color of their 2022 Commemorative Cup & Wristband Color. Green - Single and Ready to Mingle • Yellow - Listen, It's Complicated • Red - Paw's Off I'm Taken! (Cup and Wristband will match!) . We will have Guest DJs, Live Music, Giveaways, Raffles, and extra discounts for all of Cupid's Guests. Roam down the Famous Broadway and Bar Hop with us! Perfect for Bachelor or Bachelorette Parties. We will have an Official After Party for our last stop with Booth Life DJs and a huge Surprise you won't want to miss! XoXo - Cupid
Not to be confused with other events that are going on this week, please make sure you are choosing a ticket option that best suits what you are looking for. Our event will exclusively be checking in at HQ Headquarters Beercade between 6-8 PM. Do not arrive past 8 PM. There are no refunds. There is no way for us to get all of your goodies to you, map, cup and wristband if you are late. You must arrive before 8 PM to HQ or send 1 person in your party with the barcodes.
Special Discounts, Live Music, and Other Offers will be included at each stop.
Use promo code BOOTHLIFE5 for Earth Rides for a discount on Ride Share!
21+ Only. We Hope you have a Heartfelt Time. Please Drink Responsibly. No Refunds.
Email Info@BoothLifeRecords.com for any questions or VIP/Sponsorship opportunities.
@Booth.Life | www.Booth.Life
Crawl stops include HQ Headquarters Beercade, Margaritaville Hotel, Nashville Underground, Big Shotz, AJ's Good Time Bar, Assembly Food Hall, Big Machine Distillery, Doc Holidays Saloon and possibly 1 more stop TBA. So 7+ participating venues on and around Broadway. All within walking distance! Since the Pandemic, this is an open crawl stop. The check in everyone has 2 hours to arrive (6-8 PM) then everyone meets back at the After Party before 11:30 PM. Staff does not crawl with you. You are given a crawl map and we immediately go to the After Party to set up from Check In while you are crawling to the other venues. The order is also optional. Crawl at your own pace! However we give you suggested crawl times.
You can have one person check in your whole party or you can all check in. Must have barcode to do so. Early Bird Tickets now on sale for $20. Prices WILL go up closer to the event to $25-30. Official After Party location of the above venues is TBA! Check back on our website for daily updates.
Rain or Shine Event. 21+ Only. No Refunds. Drinking is 100% optional, if you choose to drink, please drink responsibly. AND REMEMBER TO TIP YOUR BARTENDERS! Masks are required to check in and to enter each venue.
PLEASE BRING AN UNWRAPPED CHILDREN'S BOOK. New or gently used.
All of the books will be donated to Dolly Parton's Imagination Library. For the first book you bring, you will receive additional specials & or additional raffle tickets. For each additional book you bring, you will get additional raffle tickets to other prizes including a Cruise for Two. *Exclusions Apply*
FOLLOW THE EVENT WITH #CUPIDSCRAWLNASHVILLE #CUPIDSCRAWL @BOOTH.LIFE #BoothLife - Please also check the discussion on our Facebook Event for updates.
When purchasing Tickets, please read the agreement clause that you are allowing Booth Life and it's Premier Partners to do a Follow Up email the day after our Events. Please contact us ahead of time if you do not want to be featured in our After Movies and Photos from the event because you also are allowing Booth Life and it's Partners to use your likeness in our Recaps on our Website and Social Media Pages. Make sure to also check your email the day after our events because additional Giveaways! Info@Booth.Life or Info@BoothLifeRecords.com
*To win the Cruise for 2, we must have 500 guests on the Crawl in order for that to be the main prize. If we are close to 500, we will still honor it. If we do not have 500 guests, additional prizes will be added for best dressed and for our raffle winners. The Cruise for 2 will roll over to our next event if we don't meet the minimum. We WILL have other major giveaways no matter what.*