CUP OF IDEASVOICE - Entrepreneurs meet Cofounders - Summer Picnic

Wednesday, June 25, 2014 from 12:00 PM to 2:30 PM (CEST)
Event Details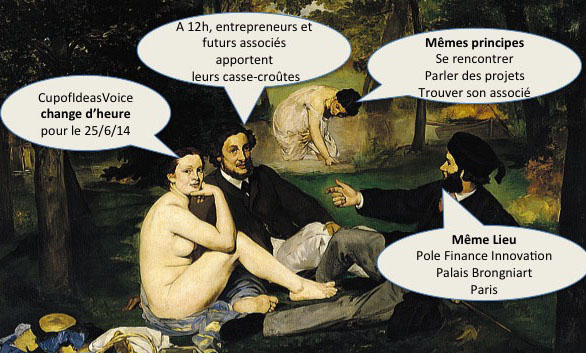 Le 25 juin, venez nombreux à notre picnic de mise en relation entre les entrepreneurs et ceux voulant rejoindre une startup ! Nous donnons la parole aux projets de startup proposant des services innovants à la recherche d'associés !
Vous êtes PORTEUR DE PROJET ?
Vous cherchez un associé ingénieur, informaticien, manager, business developpeur?
Inscrivez-vous rapidement pour présenter votre projet aux participants en avant-première !
En déposant votre pitch avant le 17 juin, IdeasVoice parlera de vous auprès de ses futurs associés.
OU
Vous êtes FUTUR ASSOCIE de profil technique ou business ?
Vous voulez rejoindre un projet passionnant pour prendre part à une aventure entrepreneuriale?
Ne manquez pas notre picnic célébrant le début de l'été pour découvrir de supers projets ! 
___________________________
12h - Accueil
12h05 – Tour de table – Présentation de chacun
12h25 – Présentation de projets – Pitch 3' & Questions / Feedbacks 10' par projet
14h – Conclusion et discussion libre
___________________________
L'art de présenter et de convaincre les investisseurs et partenaires ne s'improvise pas.
Cup of IdeasVoice est un moment privilégié de rencontre d'entrepreneurs de qualité et d'interactions d'expériences pour progresser, en complément du site www.ideasvoice.com, marketplace facilitant les rencontres d'entrepreneurs et d'associés.
Présenter son projet devant une audience avisée est une belle occasion pour :
s'exercer à faire une présentation efficace, captivante et mémorable,

s'entrainer à convaincre les personnes à vous rejoindre dans l'aventure.
Assister au Cup of IdeasVoice est un moyen pour :
découvrir des projets à potentiels,

s'accorder un moment d'introspection sur ses critères de recherche d'associés et ses propres atouts pour se donner de nouveaux objectifs,

trouver son partenaire ou associé.
___________________________
Inscription
Pour participer au Cup of IdeasVoice, inscrivez vous maintenant en réservant une place. Inscription offerte aux membres Premium IdeasVoice.
En choisissant la formule avec sandwich, IdeasVoice passera chez le boulanger pour vous. Sinon, venez avec votre picnic. 
Vous avez un projet et cherchez un associé?
Frottez-vous à l'exercice du pitch en le précisant ici avant le 17 Juin. 
Vous voulez en savoir plus, écrivez nous à contact@ideasvoice.com
Annulation et remboursement de votre inscription possible avant 24h de l'évenement 
___________________________
Have questions about CUP OF IDEASVOICE - Entrepreneurs meet Cofounders - Summer Picnic?
Contact IdeasVoice
When & Where

Pole Finance Innovation - 4e étage
Palais Brongniart
2 place de la bourse
75002 Paris
France


Wednesday, June 25, 2014 from 12:00 PM to 2:30 PM (CEST)
Add to my calendar
Organizer
Did you know that most startups tend to fail because of a lack of proper leadership?
IdeasVoice aims to fix that! We are a global platform with over 8000 members where more than 1800 ideas have been shared!
We aim to bring entrepreneurs and potential co-founders and investors together and help facilitate the creation of powerful teams to bring your project or idea to the next level.
By signing up and creating a profile members are able to communicate exactly what they are looking for and connect with other members matching those criteria. Visit our website today: www.ideasvoice.com!