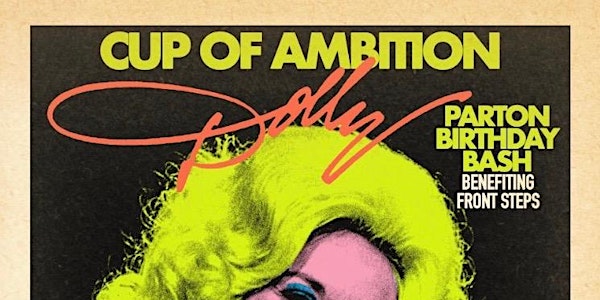 Cup of Ambition: A Dolly Parton Birthday Bash @ Barracuda Austin
Location
Barracuda Austin
611 East 7th Street
Austin, TX 78701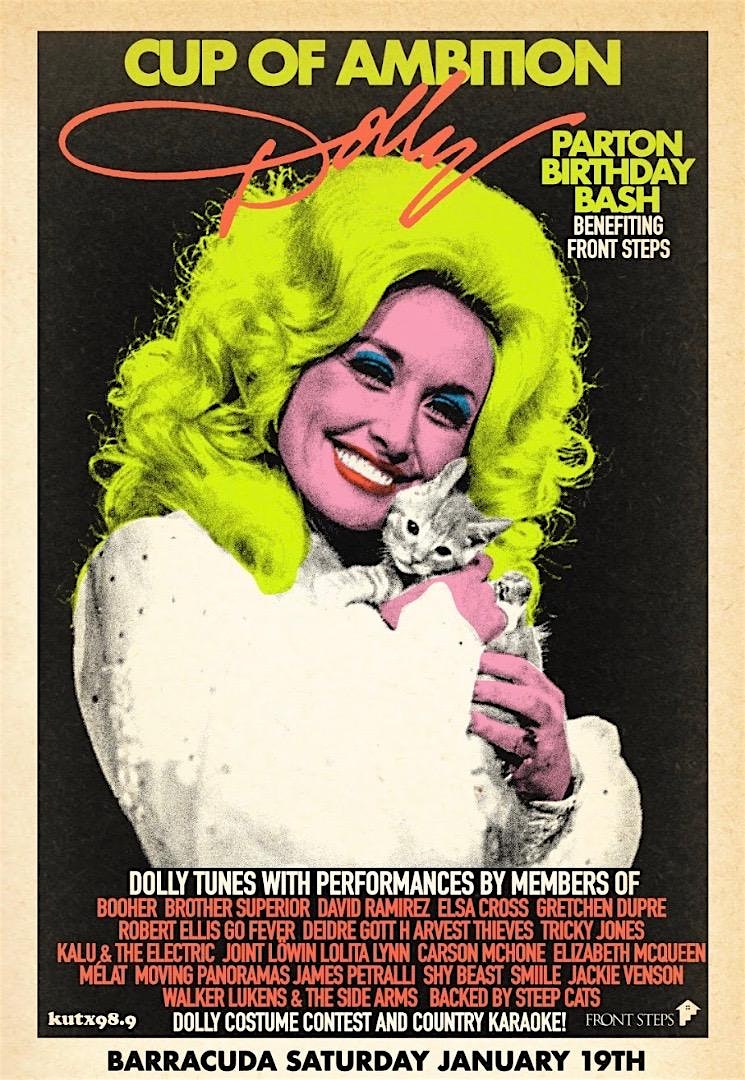 About this event
Cup of Ambition: A Dolly Parton Birthday Bash 
Benefiting Front Steps
1.19.19
Doors at 8p
$10 in advance, $15 day of/at the door
Dolly Parton turns 73 years young on Saturday January 19, 2019 and we're throwing a party as big as her...hair. Proceeds go to Front Steps.
Dolly tunes from: 
Mary Brice (SMiiLE), Michael Booher (BOOHER), Elsa Cross, Gretchen Dupree & Bryce Clifford (Brother Superior), Robert Ellis, Mariclaire Glaeser (Shy Beast), Deidre Gott, Sara Houser (Löwin), Kalu James (Kalu & The Electric Joint), Tricky Jones (Heart Byrne), Lolita Lynn, Walker Lukens & McKenzie Rose (Walker Lukens & The Side Arms), Carson McHone, Elizabeth McQueen (Asleep at The Wheel), Mélat, Acey Monaro (Go Fever), James Petralli (White Denim), David Ramirez, Cory Reinisch (Harvest Thieves), Leslie Sisson (Moving Panoramas), Cara Tillman (Moving Panoramas) and Jackie Venson all backed up by Steep Cats.
Plus a Dolly Parton Costume Contest and Country Karaoke!
Facebook event link: https://www.facebook.com/events/225385828401132/
About Front Steps:
Front Steps was formed in 1997 as the Capital Area Homeless Alliance with the philosophy that all people deserve the dignity of a safe place to call home. Of the numerous projects and programs Front Steps provides the Greater Austin area, the one most known to residents is the Austin Resource Center for the Homeless (ARCH). Via a contract with the City of Austin (who built the ARCH in 2004), Front Steps has improved the ARCH's services many times over, increasing the number of people who can be served daily and transforming the shelter into a 24/7 social service center providing shelter, showers, basic needs, comprehensive case management / support services, and permanent supportive housing programs. In addition to overseeing the ARCH, Front Steps also developed and runs three low barrier housing programs to provide permanent housing to homeless individuals, a substance abuse program (Streets of Hope), and resource for medically fragile members of the homeless community (the Recuperative Care Program).
Be a volunteer! Front Steps at the ARCH has many volunteer opportunities such as dinner service, mail desk and computer lab. Learn more at http://frontsteps.org/volunteer/
For more information on Front Steps, visit http://frontsteps.org/