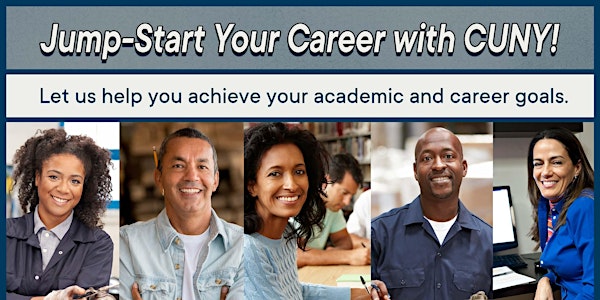 CUNY Days: Adult College Access Program
Join us for a free, 1-to-1, pre-admissions advisement session to explore how CUNY can help you reach your goals.
By The Murphy Institute, CUNY School of Labor and Urban Studies
About this event
***Due to public health concerns related to the coronavirus, all CUNY advisement sessions will be held via the phone until further notice.***
Worker Education at the CUNY School of Labor & Urban Studies (SLU) is here to help you achieve your academic and career goals. Our experienced advisors are available to meet one-on-one to discuss topics such as:
Academic requirements for specific jobs
Choosing a CUNY campus and major
Applying to and financing college
Certificate and non-credit options
Transferring previous credits
Long-term career planning
Fastest-growing industries in NYC
Each advisement session is free, one-to-one, and catered to your specific goals and needs.
Can't find a date/time that works for you? Please contact us at WorkerEd@slu.cuny.edu or 646-313-8535 for more info.
About the organizer
CUNY School of Labor and Urban Studies offers higher education programs for working adults and union members, and serves as a resource center to labor, academic, and community leaders seeking a deeper understanding of labor and urban issues.