Cunao w/ Special Guest Los Glifos LIVE! on The Santa Monica Pier
Description
FREE CONCERT. Music starts at 10pm, show up early for dinner, stay late for drinks and dancing.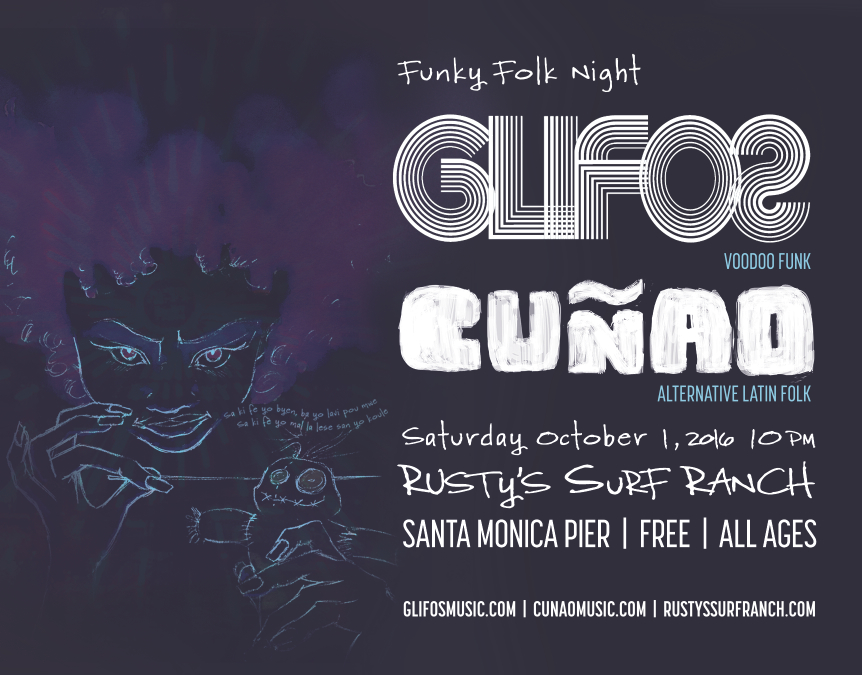 LoS GliFoS is a Los Angeles meets the Inland Empire voodoo funk project. Influence by Lost Afro funk, afrobeat, psychedelic, soul and fusion funk music popularized in the 1970s.
Brandon (Cavey) Blanks DRUM KIT
Roberto Shavez KEYS/SYNTH
Navia (VeNoM) Alejandro GUITAR
Tanvir Singh Bajwa SHEKERE/CLAVES/BELLS
Adam Petrini GUITAR
Cheyenne Dunbar VOCALS/SWORDS
Maxwell Myrick BASS/UPRIGHT
Mardhavi Sakuntala CONGAS
Cuñao speaks in a voice that feels the duality of cultures as the norm not the exception and that learns the way of the new but yearns to belong to the old.
Cuñao is a Los Angeles-based, Latin Folk group . They use their South American background & influences to create evocative, poetic songs that transcend time and leave listeners with lush images. A group of multi-ethnic musicians, Cuñao puts a global twist on their Latin sound by exploring African rhythms, Eastern European melodies and American Rock aesthetics.