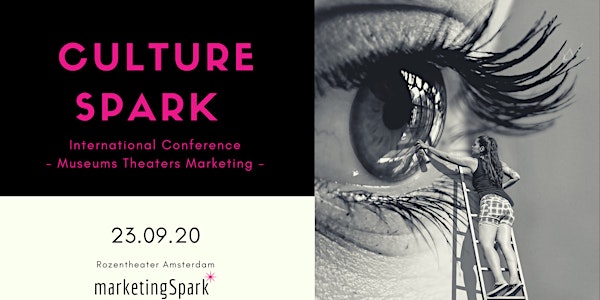 CultureSpark International Conference postponed. Date will be known soon
CultureSpark International Conference is postponed. The new date will be known soon.
When and where
Location
Rozentheater Amsterdam Rozengracht 117 1018 EJ Amsterdam Netherlands
About this event
After much deliberation within the marketingSparkteam, it's with regret that we've decided to postpone the event.
Despite positive signs of improvement regarding the COVID-19 situation here in the Netherlands in July, the infections have been rising in August, and are kind of stabilizing now, but we still feel there is too much risk and uncertainty involved in going ahead with our event on 23 September. We prefer to postpone the CultureSpark to a later moment. We will make the new date known very soon. We hope that you understand and support our decision.
In the meantime you are welcome to follow us on our website, LinkedIn or Facebook page:
https://marketingspark.nl/
https://www.linkedin.com/company/marketingspark
https://www.linkedin.com/groups/8829108/
https://www.facebook.com/marketingsparkNL
Till soon,
The marketingSpark Team
----------------------------------------------------
Join this unique conference in Rozentheater Amsterdam and get updated about what's on in culture & marketing today.
After the success of Boom Marketing 2019 we offer you again 
With talks about Branding, Data Analytics, Artificial Intelligence, Media Campaigns, Social Media Marketing, Online Advertising, Crowd Funding, our program covers some of the biggest conversations within marketing and business development in the cultural sector today.
Whatever piques your interest, be sure to check out the full program here so you can get a handy overview on what's happening on the day. The morning program is in Dutch, the afternoon in English.
Come and listen to top speakers, hear best practices, get updated, grow your network, meetup and share insights with other professionals or just satisfy your curiosity in the headquarters of Boom Chicago in Amsterdam.
The ticket costs €35 for access to all lectures.
Program
- 10:00 - 17:00: CultureSpark Conference (ticket for € 35 only fot the whole program; consumptions at own expense). The morning program is in Dutch (10:20-12:00), the afternoon program (12:00-17:00) is fully in English.
- 17:00 - 17:30: Networking drink (consumptions at own expense).
Speakers 
• Michael Vogel, Head marketing & Communications, Scapino Ballet Rotterdam, How Scapino grows: looking into drivers & barriers of new audiences
• Sandra Jongenelen, Marketing & Communicatie, Stedelijk Museum Schiedam: Van verdomhoekje naar succesmuseum
• Alyssa Mahler & Michelle van Doorn, Project Manager & Contentmarketeer, Stichting voordekunst: De impact van crowdfunding
• Fleur Nieuwland, (online) marketeer, AVROTROS, Campagnes voor Instagram en Facebook
• Suzanne Ophof, Content Marketer, Mauritshuis: Dissecting the George Stubbs exhibition campaign
• Femke Pijls, Marketing Coordinator a.i. & Communicatie & Content Manager at Stedelijk Museum Amsterdam: Nam June Paik: The Future is Now!
• Wouter van der Horst, Founder, We Share Culture - Museum Education & Technology: Museums & YouTube
• Mirjam Haak, Freelance market researcher & data analyst: Analytics for more insight.
Boom Chicago's Comedy Show 
In the evening Boom Chicago will perform a comedy show. You can choose to attend the comedy show in the evening with CultureSpark attendee discount. The ticket with the event attendee discount costs € 16,50 instead of € 26,50.
Venue
Boom Chicago's Rozentheater is one of the capital's finest venues and the perfect home to comedy and innovative productions. The perfect place to meet each other in an inspirational and relaxed environment.