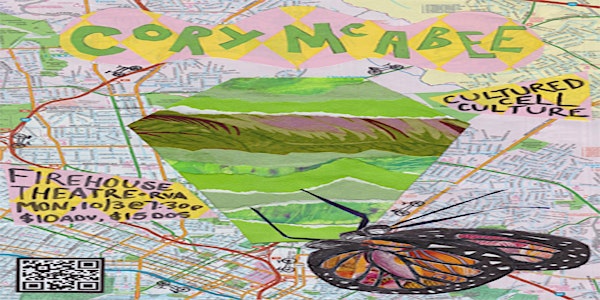 CULTURED CELL CULTURE
CULTURED CELL CULTURE by Cory McAbee Mon, Oct 3 @ 7:30pm $10 advance / $15 day of
When and where
Location
Firehouse Theatre 1609 West Broad Street Richmond, VA 23220
Refund Policy
Contact the organizer to request a refund.
About this event
​CULTURED CELL CULTURE is the 3rd lecture in a series created by Cory McAbee. His first two lectures (DEEP ASTRONOMY and THE ROMANTIC SCIENCES AND SENTIMENTAL SYSTEMS REFORM) were performed at science museums, universities, galleries, theaters, nightclubs, and film festivals throughout the US, including the 2018 Sundance Film Festival, the San Francisco International Film Festival, and the SF Exploratorium. Cultured Cell Culture will be presented live as part of the 2022 I_Butterfly festival.
CULTURED CELL CULTURE is a live multi-media presentation in the form of a science lecture that includes original music, artwork, and animation created by McAbee. Topics include cell memory in cultured cell meats, monarch butterflies, agricultural reform, proactive approaches to further human evolution, Abraham Lincoln, cruelty-free cannibalism, space aliens, and people who are better than we are.
Cory McAbee is best known as writer, director, songwriter, and co-composer for the award-winning feature films The American Astronaut (2001), Stingray Sam (2009), Crazy and Thief (2012) and as singer/songwriter for the internationally acclaimed musical group The Billy Nayer Show (1989–2011). He has created award-winning animated and live-action short films and has worked as both an actor and musician in American and European features. In 2012 McAbee founded the international arts collaborative Captain Ahab's Motorcycle Club, with the goal of creating international solidarity between artists through the creation of a globally generated feature film. The film is called Deep Astronomy and the Romantic Sciences. In January of 2015 McAbee recorded and produced his first solo album Small Star Seminar (available on iTunes, Amazon, Spotify and more.)