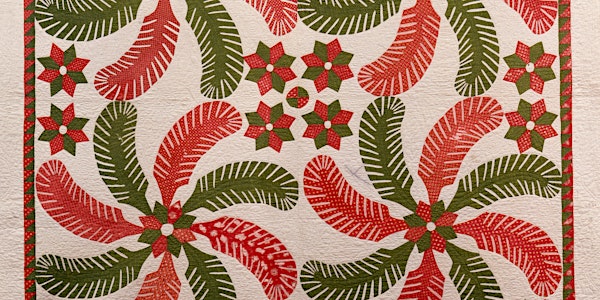 Culture & Technology in American Quilts: A Symposium
When and where
Location
DAR Museum 1776 D Street NW Washington, DC 20006 United States
Refund Policy
Refunds up to 30 days before event
Eventbrite's fee is nonrefundable.
Description
This symposium will explore how women engaged with the world through their quiltmaking, to compliment the DAR Museum's current exhibit, A Piece of Her Mind: Culture and Technology in American Quilts. With a full day of speakers and a chance to tour the exhibit, this event is not one to miss. Lunch and snacks included, PLUS a Gallery Chat with Alden O'Brien, Curator of Exhibit "A Piece of Her Mind: Culture and Technology in American Quilts."
Registration deadline: Friday, November 1
The Romantic Era: Understanding Friendship Quilts places the fashion for making friendship quilts within the context of antebellum America's social history and material culture. It is based on research for the exhibition "Gothic to Goth: Romantic Era Fashion & Its Legacy," which appeared at the Wadsworth Atheneum Museum of Art in 2016. Lynne Bassett expands on the ideas presented in that exhibition and shows how the same factors affected quilts.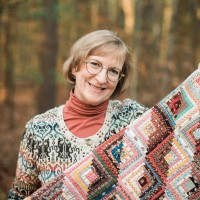 Lynne Zacek Bassett is an independent scholar specializing in New England's historic costume and textiles. Lynne's projects have taken her all over the Northeast and Mid-Atlantic region, and have included numerous exhibitions, publications, and lectures. Her current exhibition project, "Pieces of American History: Connecticut Quilts," will open at the Connecticut Historical Society on October 11 and run through the end of this year. Her contribution to the field of historic costumes and textiles has been recognized by the American Antiquarian Society, Massachusetts Historical Society, Historic New England, and the International Quilt Study Center & Museum, which have all elected her to membership in their honorary or advisory committees.
---
Quiltmaking in the Culture of Home Sewing: Northern New York, 1850–1920 explores the primarily practical, utilitarian, conservative ways in which rural women engaged with their world through their textile work in the same period that women in more settled areas were turning their sights outward.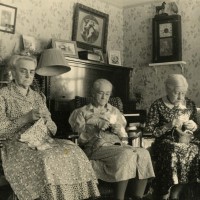 Hallie Bond is a historian and student of material culture primarily interested in the social history of the rural northeast between the Civil War and World War II. She worked as a curator at the Adirondack Museum in Blue Mountain Lake, New York, for 26 years, where she was in charge of the institution's world-renowned boat collection. Her book Boats and Boating in the Adirondacks followed the permanent exhibit of the same name; she is now studying quilts and quilting in northern New York.
---
Star Spangl'd: Patriotic Quilts of the 1850s looks at the political culture of the 1850s to give us insight into an almost forgotten and unpleasant context that has given us an impressive group of American quilts. An analysis of date-inscribed quilts indicates a surge of eagle designs beginning in 1853. Several picture aggressive eagles without the traditional olive branches. These national birds grasp lightning bolts (arrows) in both claws. During that decade the United States was at relative peace with the rest of the world. Wars with Britain and Mexico were over. Who was the enemy?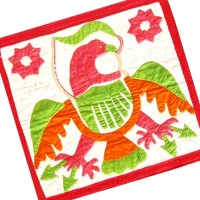 Barbara Brackman is a quilt historian and author from Lawrence, Kansas. Barbara has written numerous books indexing patterns, exploring women's history through their quilt making and giving guidelines for dating fabrics and quilts. She writes several blogs about quilt history including Civil War Quilts and Material Culture. She is a founding member of the American Quilt Study Group.
---
Mind-Reading: Improving our Understanding of the Floral Literacy of Quiltmakers in the First Half of the 19th Century draws together a broad selection of early fabrics, botanical illustrations, and modern scientific information about actual flowers and plants to better understand the level of floral knowledge of women in the first half of the 19th century. What did women actually see when they selected floral-printed fabrics for their quilts or created their own appliqued flowers? Was it merely an assortment of beautiful plants, attractively designed? How familiar were the quiltmakers with the myriad of different plant motifs depicted on printed cottons?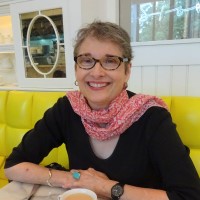 Deborah Kraak, the former Associate Curator of Textiles at Winterthur Museum, holds an MA in Art History from the Institute of Fine Arts, New York University. Now an independent museum professional, she catalogues private and institutional collections, curates exhibitions, and lectures and publishes on quilts, textiles, costume, and period interiors. She was a consultant to the archives of the international fabric company Kravet Inc., which owns the Brunschwig & Fils archive of historic fabrics, including a museum-class collection of eighteenth and nineteenth-century printed textiles. An abiding interest in historic fashions in flowers on printed and woven fabrics, as well as embroideries, blossomed into her ongoing collaboration with Dr. Terry Terrell.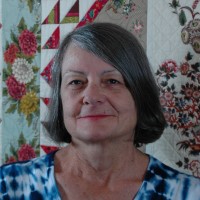 Dr. Terry Terrell has a Ph.D. in Ecology. After teaching in the Botany Department at the University of Wyoming she pursued a research career with the U.S. Fish and Wildlife Service and the National Park Service. Since her retirement she has been actively researching various quilt history topics and has been working with museum professional Deborah Kraak to develop a website (flowersonchintz.com) to help people correctly identify floral motifs on chintz. She has published two papers in the journal Uncoverings as well as giving numerous presentations and writing short articles.
---
A New Deal for Quilts explores intersections of gender, poverty, race, craft, and politics in the New Deal era through the lens of quilts and quiltmaking. By the time the Roosevelt Administration began combatting the Great Depression, the quilt had become an emblem of how to lift one's family out of poverty, piece by piece.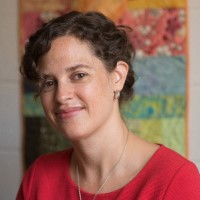 Janneken Smucker, a 5th-generation Mennonite quiltmaker and Professor of History at West Chester University, specializes in digital, oral, and public history, and American material culture. The author of Amish Quilts: Crafting an American Icon (Johns Hopkins University Press, 2013), she lectures and writes widely on the topic of quilts for both popular and academic audiences. Janneken also leads workshops on digital tools and strategies, consults on digital projects for non-profits and museums, and brings digital humanities into the undergraduate classroom, while also serving as the digital editor of the Oral History Review. This presentation draws on her current research project exploring how both the United States government and American quiltmakers employed quilts as a source of empowerment during the Great Depression.