About this Event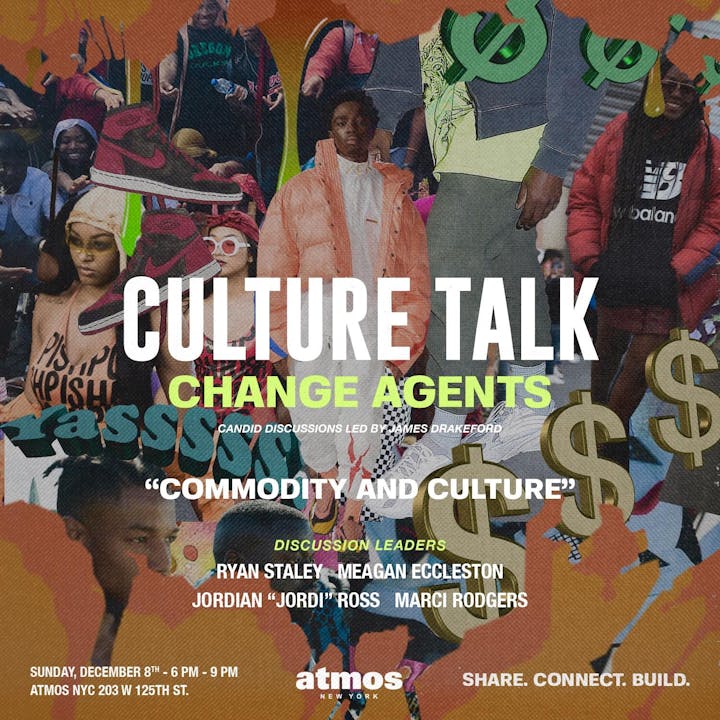 Commodity and Culture: Join us on December 8th at atmos NYC as we discuss the fine line (or boundaries crossed) between commodity and culture. In the world of sneakers, street-style, and hip-hop - what is simply a lifestyle to many, is a billion dollar business to another. Where does the happy medium exist? Does it exist? How can we begin to own or benefit from the things we influence the most? Lets talk about it...
Moderator: James Drakeford
Discussion Leaders:
What is #CultureTalkCA? Culture Talk is a discussion-based community building event designed to create constructive & engaging conversations - the same kinds you have with your best, but in a community setting. A few discussion leaders are featured, and we focus more on discussing than lecturing (atypical of panel talks). The purpose of these talks is to share ideas, see how we connect with each other, build/network, and leave the space with strengthened, broadened, and ultimately better directed perspectives. Discussion topics range from current events, education, entertainment, business, lifetysle, and more as they relate to the Black American experience. No politics, no agendas, just current topics and real conversations.
Follow us on Instagram for photos and announcements: Culture Talk: Change Agents