Culture of Engagement - Why/How to Build Passionate, Engaged teams
Description
About our Program:
Each of us began our careers from a passionate place. On our first day of work every one of us was excited, intrigued, and joyful. However, with such demanding roles, it easy for us to lose sight of our initial enthusiasm. Slowly our daily responsibilities wear down our commitment and it can be tempting to slip into complacency. Recent Gallup Poll Studies have estimated that on average, only 30% of an organization's staff are truly engaged in their work. This correlates to 70% of people at any given organization being disengaged. The question becomes: How can we can find a way to reignite our passion and recommit to our roles in the organization? If we can, then we can create environments that cultivate engagement, reduce turnover, and increase overall workplace satisfaction. In this session learn how to become a positive catalyst, collaborate enthusiastically, and build a peerless culture of authentic engagement that inspires the team you work with.
Key Learning Objectives:
Learn how to build an engagement focused working environment

Discover how to cultivate and nurture a phenomenal company culture

Obtain tools for reengaging in your work and increasing coworker engagement for authentic interactions
About our presenter:
Joshua M. Evans is a #1 best-selling author in Leadership/Management Training, a TEDx Programmer, an organizational engagement specialist, international speaker, and the leading expert on company culture.
Joshua has worked with 100's of companies like American Express, ExxonMobil, Latham & Watkins, HP, ReMax, Raytheon, Wood Mackenzie, Sheraton, Maersk International, Landry's, Radisson, Fidelity National Title, DHL, Transamerica Life Insurance, and many others to assist them in creating the right company culture to improve employee engagement. His insights have been featured in The Wall Street Journal, LA Weekly, Harvard Business Review, iHeartMedia, INC., CBS, Monster.com, Glassdoor, Recruiter Magazine, and many more.
Joshua truly believes that for any organization to succeed they need to realize that attitude is far more important than aptitude. With 10+ years of corporate experience, Joshua marries his expertise, knowledge, and passion to help people enjoy and engage in work again, traveling the country speaking and training audiences, as well as interacting with others in his online course. It has become Joshua's mission to provide people with the tools to re-engage and love the work that they do. He lives outside of Houston with his wife, two sons and their English setter.
Joshua is on a mission to help people rediscover fulfillment, purpose, and meaning in their work.
About our day:
8:00 – 8:30am: Continental Breakfast and Networking
8:30 – 9:00am: Chapter meeting
9:00 – noon: Program
CE Credit information:
The use of these seals confirms that this activity has met the Society for Human Resource Management® (SHRM®) & HR Certification Institute's® (HRCI®) criteria for recertification credit pre-approval.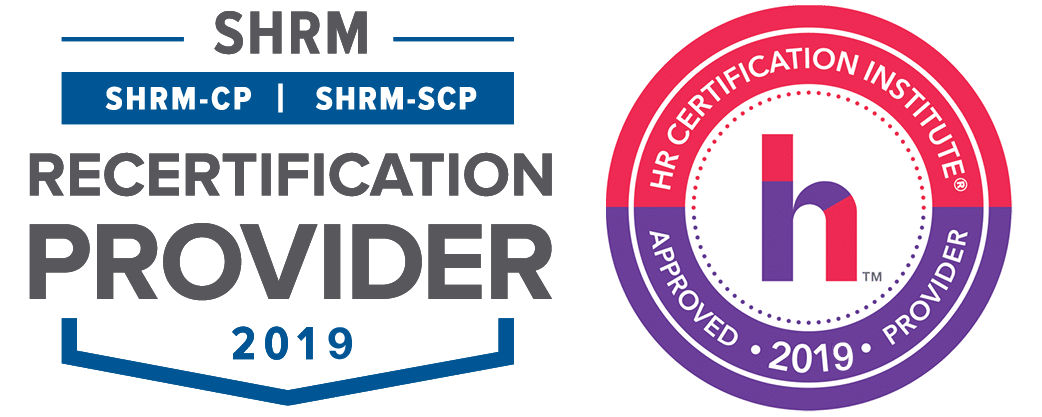 This event is approved for both HRCI and SHRM credits. (3 credits)