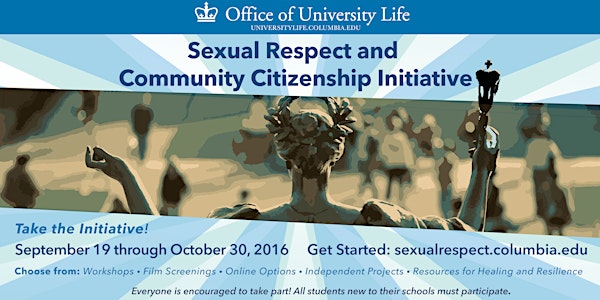 Culture of Consent
When and where
Location
Furnald Lounge 10027
Description
FOR CC/SEAS UNDERGRADUATE STUDENTS ONLY
Conversations about consent can be emotionally charged, inconclusive, and confusing - this workshop helps you better understand the issues surrounding consent as well as how gender roles, stereotypes, and double standards impact communication and sex-negative ideology. Led by Tara Abrol, Licensed Master Social Worker.
Attending this event will satisfy the 2016-2017 Sexual Respect and Community Citizenship Initiative.
Facilitator:
Tara Abrol is a self-proclaimed former confused teenager about life. She is an LMSW with 8+ years of youth development experience in curriculum building and facilitation and is the author of the upcoming books Sex: It's Something to Talk About and Sex: It's Something to Talk About – Parent's Companion Guide.
Today Tara Abrol enthusiastically embraces complex issues in preparing young people and adults to jump head-first into their confusion and resurface with understanding. She prioritizes creating change in the world, being at the forefront of that change, and transforming possibility into reality. Tara believes wholeheartedly that our ability to create change directly correlates with our understanding of the emotional self. As a facilitator, Tara assists participants in acknowledging, understanding, and sharing their thoughts and feelings. Through her work, Tara helps participants gain a profound understanding of themselves which enables them to tackle the complexities of converting existing problems into transformative successes. Her style encourages robust dialogue that increases participants' self-awareness and confidence, leading them toward recognizing themselves as experts ready to self-advocate.