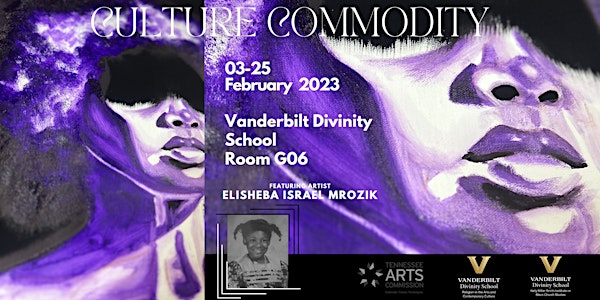 Culture Commodity Exhibit Opening and Gallery Talk
Black History Month Immersive Exhibit Opening and Gallery Talk with Elisheba Israel Mrozik
When and where
Location
Vanderbilt University Divinity School 411 21st Avenue South Nashville, TN 37240
About this event
Religion in the Arts and Contemporary Culture and the Kelly Miller Smith Institute on Black Church Studies at Vanderbilt Divinity School announces the Black History Month Exhibit, Culture Commodity with artist, Elisheba Israel .
Exhibit Date: February 3 - 25, 2023
Exhibit Opening: February 3, 2023 | 6:00 - 7:00 p.m.
Gallery Talk: February 3, 2023 | 7:00 p.m.
Culture Commodity Artist Statement
Cotton- [ kot-n ] noun
1.a Soft white fibrous substance that surrounds the seeds of a tropical and subtropical plant and is used as textile fiber and thread for sewing."a cargo of cotton and wheat"
1.b the plant that is commercially grown for cotton products. Oil and a protein-rich flour are also obtained from the seeds.
2.Cotton ("King") Commodity that was a catalyst for American capitalism. It's cultivation and production established a toxic culture and fueled the demand for the transatlantic slave trade to provide more free labor to the US for exploitation and explosive profit margins. King Cotton commodified the lives of millions of humans and was a cultural institution and way of life embedded in the very foundation of American society
Culture- [ kuhl-cher ] noun
The customs, arts, social institutions, and achievements of a particular nation, people, or other social group.
Ankara Print Cotton- often called African Print is cotton fabric Black Americans wear to represent our African heritage and connection to the cultures of African tribes we think we may be descendants of.
When you don't know your history, you make it up.
Ankara Print Fabric is not African. Created by a Dutch Company established in 1846 Called Vlisco, the patterns were and are created by white designers as copies of Indonesian Batik designs. They fell out of favor with South East Asian community and was then sold to west Africans. To sell the patterns, market women created stories about them denoting favorable outcomes or prosperity, etc. It does not represent our culture as a product of our ancestral Africans roots but rather is another version of exploitation. When money is involved, it always leads back to a colonizer.
When you don't know your history, you make it up.
Women are the keepers of culture. Mothers bring forth life and are charged with teaching the culture to the babies. What happens when your connection to everything you ever knew is cut off traumatically?
What if you are still forced to have, raise and try to pass down culture while being forced into a new identity and life. involuntarily incapable of self determination?
Culture gives people identity and a sense of belonging to a collective. It keeps us human and caring for and about others and is directly involved in the success of people as individuals. That is why the destruction of the black family and identity was so crucial to American chattel slavery.
We all have a right to know who we are, and where we are from. The people, places and stories of our families are a part of the unique story of who we are. Understanding your history can help build your personal growth and well being, and helps to connect us with each other.
Culture Commodity is an immersive installation experience exploring the concepts of identity in the culture of a people whose existence has been tied to a culture of capitalism.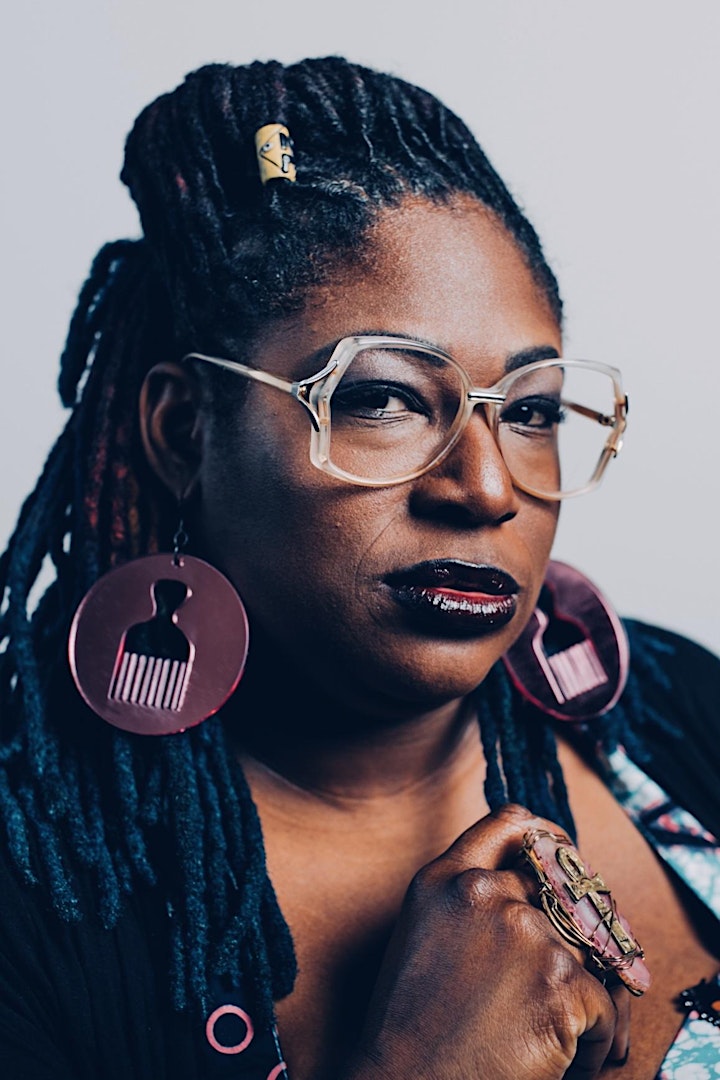 About the Artist
Elisheba Israel Mrozik is an award winning multidisciplinary fine artist and international award winning trattooist from Memphis, TN. She graduated from Memphis College of Art in 2006 with a BFA in Computer Arts. After moving to Nashville, TN in 2007, she began to work as a freelance artist in graphic design, anime, and fine art.
Elisheba was a part of Nashville Black Artists Renaissance, and has shown at Columbia State, The Ha Factory, Boheme Collectif, Corvidae Gallery, and other venues. She was a New York Comic Con artist in 2010 and has created live murals at events with the Goo Goo Dolls in Buffalo, NY. Additionally, Elisheba has also been in various music videos and commercials like Old Dominion, Budweiser, and Yelawolf. Late 2010, she became interested in tattooing after viewing work by some world renowned artists. In 2011, Elisheba began her tattoo career and opened One Drop Ink Tattoo Parlour and Gallery in Nashville, TN. She became the first licensed black artist and opened the first black tattoo shop in MIddle TN. In 2019, she moved the shop to its current location next to historic Fisk University.
Elisheba is now an award winning tattoo artist in many categories, Indieville TV's 2015 Nashville Tattoo Artist of the Year and was an artist on the international TV show Inkmaster and BET's About Her Business.
In 2019, Elisheba and 8 other Nashville artists were selected to participate in an unprecedented show of commissioned work at The Frist Art Museum in Nashville. The show, Murals of North Nashville Now, opened August 2019. In late 2020, Elisheba returned to the Frist with her exhibition of the immersive installation experience, Blood at the Root. The collaborative work was created with her husband and member in their newly founded art team EXO:DUS.
Additionally, Elisheba has published a total of three coloring books. Her first coloring book, sponsored through a Metro Arts Thrive grant, is titled Notable Nashville and is about historic marginalized people of Nashville which came out in 2017. The second coloring book- Sovereign Goddess- is a collection of her drawings combined with poetry and was released in 2019. Her most recent publication, Nashville Strong, was sponsored again through a Metro Arts Thrive grant, and shows people of the city banding together despite this year's setbacks. The Nashville Scene recognized Nashville Strong as Best Kid's Coloring Book in their writer's choice of Nashville's Best of 2020.
Now the 2020 Nashville Emerging Leader Award winner is shifting her focus to providing fine art with community purpose in the form of large scale public art and community engagement. Elisheba is an active member of the community and Director of the North Nashville Arts Coalition sponsoring charitable events, teaching art classes, supporting schools and other community building endeavors to support and grow the careers of artists of color and artists in underserved communities. Elisheba's purpose is to leave a sustainable and substantial impact organization to those creatives in need in a place she loves.
In 2021, Elisheba joined the board of the Nashville Repertory Theater She has also expanded her public art in conjunction with Creative Girls Rock and Swipe Right Art Gallery installing murals at Slim and Husky's, 5th and Broadway and the National Museum of African American Music. In 2022, she was also the first black woman awarded a Public Art commission from Metro Arts and the City of Nashville and completed that installation in Kossie Gardner Sr Park. Now, she has had her first solo show at NKA Gallery in Nashville and is looking forward to developing her work further and amplifying her mission of Fine Art with Community Purpose.