About this Event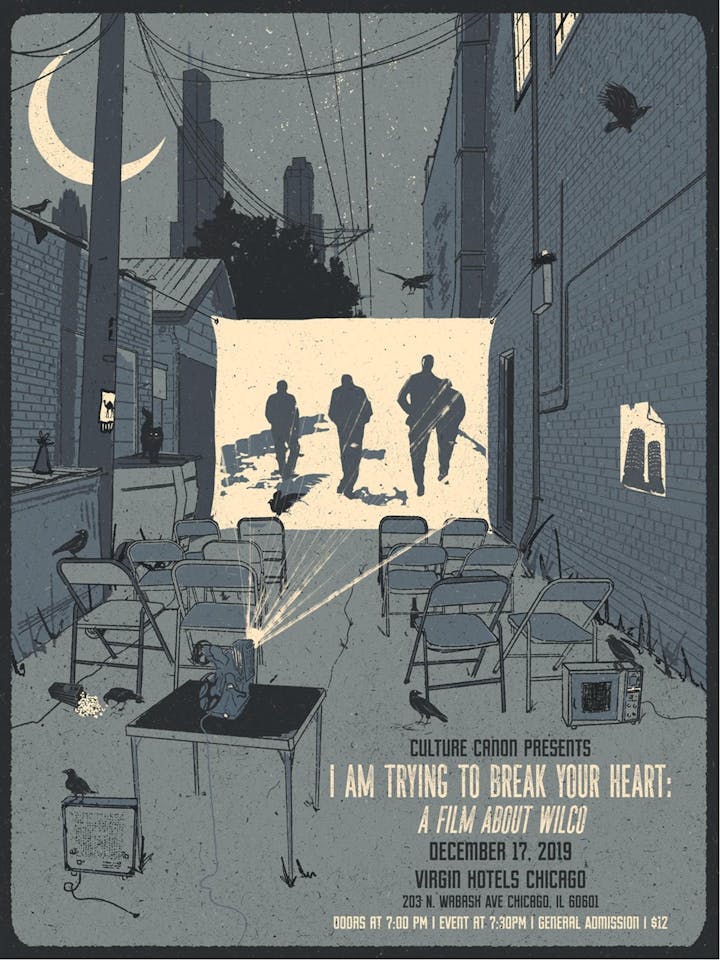 On December 17, 2019, join Culture Canon at Virgin Hotels Chicago for a screening of I Am Trying To Break Your Heart: A Film About Wilco, the documentary that chronicles the Chicago-based band's recording of their massively-influential album Yankee Hotel Foxtrot. Initially to be released by Reprise Records, executives at Warner Music Group deemed Yankee Hotel Foxtrot to be too artistically ambitious to be commercially viable when the band delivered final masters to the label in 2001. The album was finally released in 2002 by Nonesuch Records (another subsidiary of Warner Music Group) after the band reacquired masters to the album from Reprise. The film follows the band as they wrestle with a shifting lineup, the rising influence of the internet on the music industry, and the myths surrounding the record's recording and release that have made Wilco a mainstay in popular culture.
A limited edition print that was created by designer and artist NDTank will be available for purchase online with a general admission ticket and at the event.
Those who purchase general admission tickets are entered into a contest to win a pair of tickets to Wilco's SOLD OUT show at Chicago Theatre on Sunday, December 15 in Chicago. Those who purchase a general admission ticket and event poster are given three entries to win these tickets. We will be selecting a winner for these tickets on Sunday, December 8.
We're also giving away a signed copy of Wilco's latest LP, Ode To Joy, to those purchasing advanced tickets to the screening. Those who purchase general admission tickets are given one entry into winning this signed LP. Those who purchase a ticket to the screening with an event poster will be given three entries. We will be announcing the winner for the signed LP on Sunday, December 15.