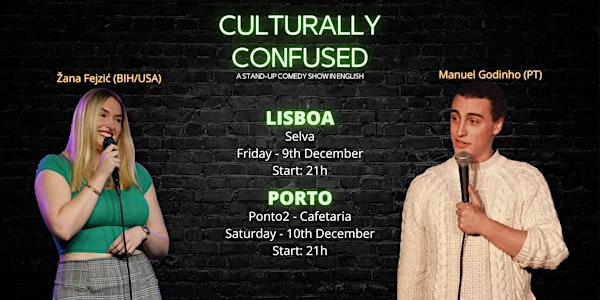 Culturally Confused (Lisbon): English Stand Up Comedy Show
A one-night-only special comedy show in English with local & international comedians Manuel Godinho (PT) & Žana Fejzić (BIH/USA)
When and where
Location
Selva Cafe R. Luís de Camões 112 A 1300-361 Lisbon Portugal
About this event
Come out for an evening of English stand up comedy where Manuel & Žana riff on their culturally confused upbringings.
About Manuel
Manuel Godinho could almost be Scandinavian if he met the height requirements. As he doesn´t, he´ll have to stick with Portuguese nationality.
At 18, Manuel immigrated to pursue his studies and to test if a white straight men could be discriminated in the UK. He didn't know that "roll" meant "bread", so he was sent back to his country. Waged war against bread and is now gluten-free.
Raised between Spanish and Portuguese customs, his sense of belonging to a country is inexistent. He has performed in London, Barcelona and Lisbon.
About Žana
Based in Berlin, Žana is quickly becoming one of the hardest working comedians in the scene. Within 5 months of starting comedy she became a finalist in the 2022 Berlin New Stand Up Awards and is now hosting & producing shows in Berlin & Lisbon. You can catch her perform nightly across Berlin and hear her fresh take on the absurdity of immigration laws, her Balkan background, and growing up in Florida.
How much are tickets?
€10 at the door with a free Eventbrite reservation
What time is the show?
Show starts at 9 pm
Doors open at 8:30 pm
Manuel Godinho @manuelgodinho5
Žana Fejzić @zanafejzic